Kissing From Coast To Coast
They couldn't stay away from each other. Ashley Benson is back with her ex-boyfriend Ryan Good just in time for the holidays.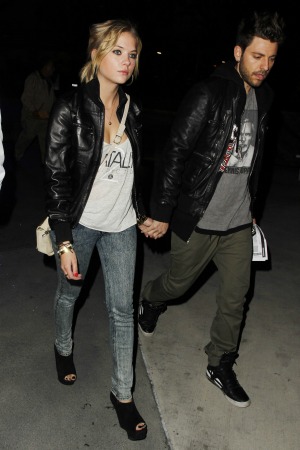 There's nothing better than reuniting for the holidays. That's exactly what Ashley Benson and Ryan Good are doing. The Pretty Little Liars star is involved again with her ex-boyfriend.
According to Us Weekly, the duo began dating in the fall after breaking up in March. Their first round of dating lasted a little over a year. While Benson had been linked to other actors during their time off, including Spring Breakers co-star James Franco, she only had eyes for Good.
The duo were spotted on Friday at the Boom Boom Room in New York City celebrating her 24th birthday. It was a joint party with model Esther Houston and it seems that the ABC Family star and Good were showing lots of PDA.
A source revealed to the entertainment magazine, "Ryan and Ashley were kissing each other all night."
Benson was also seen spending some time with her PLL co-star Keegan Allen who is currently starring in the Off-Broadway show, Small Engine Repair. She attended the show with Ian Harding on Dec. 8.
Now that Benson is done filming a project in New York, she headed back to Los Angeles with her on-again, off-again boyfriend to spend the holidays on the West Coast. She even posted a photo on Instagram that showed her, Good and celebrity hairstylist Christopher McMillan on the plane back to Los Angeles.
Will Benson and Good go the distance in 2014? They certainly seem to be in a good place right now.
Photo credit: WENN