Ragnar Shifts To Odin
In the new Vikings promo, Ragnar is undergoing a major transformation. Will we see more glimpses into mythology on Season 2?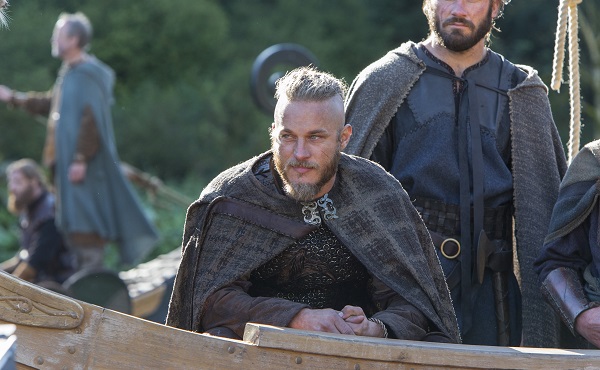 The return of Vikings is just a couple short months away. The brand new promo for Season 2 has us swooning and shaking in fear all at the same time. Why? It looks like Ragnar is set to return more powerful than ever.
The new promo is soundtracked by Lorde's "Glory and Gore." Perhaps the most perfect song ever for Vikings, right? When the image of Ragnar (Travis Fimmel) fades and is replaced with the Vikings logo, Lorde's words echo loud and clear: "Victory is courageous." We all know that glory and gore are exactly what the vikings always fought for. If they regretted their bloody battles, history has yet to show it. Throughout Season 1 we watched as Ragnar struggled against Earl Haraldson in an effort to see his brothers forge further than Haraldson usually let them go. In the end, we saw Ragnar find victory over the Earl. Where will that victory find him in Season 2, though?
The promo hints at Ragnar's closeness to his patron God, Odin, too. As Ragnar's head so beautifully begins to break away and to show the feathers and then the head of the raven, we're clearly supposed to be reminded of Ragnar's relationship with the legendary god from whom he believes he descends. Is his mind breaking away to indicate Ragnar will "lose his mind" as he attempts to follow Odin? Or are we simply being shown that Ragnar has become so close to his god that they share a mind?
Watch the video and tell us what you think.