Four Times The Fun
Country folks know how to throw a party — in fact, they're so good at it, they throw four of them! But how are the Country Music Awards, the Country Music Television awards, the Academy of Country Music awards and the American Country Awards different (other than an obvious rearrangement of words)?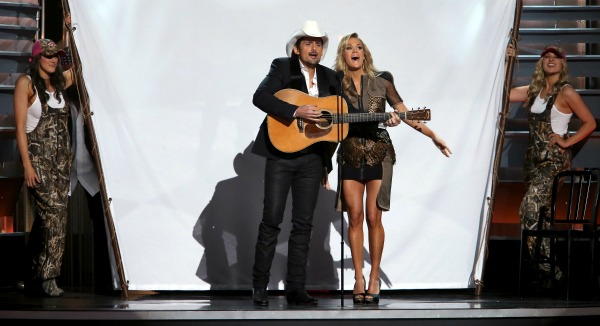 Country Music Awards
The second-to-oldest country celebration started in 1967 and unlike some of the newcomers, nominees and winners are determined by industry professionals. The Country Music Awards has brought together country crooners Brad Paisley and Carrie Underwood as hosts for the past six years. Interestingly, Taylor Swift is the most celebrated artist of this show. Oh, wait. That's all country music award shows. This year is proving to be a bit different as Swift didn't take home several of the CMAs she was nominated for, but she did receive the illustrious Pinnacle Award.
Country Music Television awards
The Country Music Television awards kick off awards season in June to coincide with CMA music festival. Much like MTV's Video Music Awards, the CMT awards celebrate the videos featured on CMT. The CMTs boast that they are the only entirely fan-voted awards show, so this particular event is truly a popularity contest.
Academy of Country Music awards
The Academy of Country Music awards started this country love-fest back in 1966 and is broadcasting its 49th awards show on April 6, 2014. The Academy declares that the week leading up to the presentation is "The week Vegas goes country." A distinguishing trademark of the ACMs is its charitable organization Lifting Lives, which the Academy of Country Music Lifting Lives website describes as "the charitable arm of the Academy of Country Music dedicated to improving lives through the power of music. With the help of country music artists, the music industry and other caring supporters, the Academy is able to give back by funding a variety of amazing organizations that are music-focused." How's that for country music with a heart?
American Country Awards
Are you dizzy from all the choices, and how closely the acronyms for each resemble each other? The American Country Awards sort of brings all these concepts together. It will air Dec. 10, it's also in Las Vegas and the fans also vote on many of the nominations. It's the baby of the country awards presentations, having started in 2010. The ACAs has become known for unique categories, recognition of fan favorites that sometimes get overlooked by some of the other award shows and for being relatively drama-free.
Image credit Judy Eddy/WENN