Ludacris, Vin Diesel Mourn Paul Walker
Hollywood is reacting with shock and disbelief after the sudden death of actor Paul Walker in a California car crash.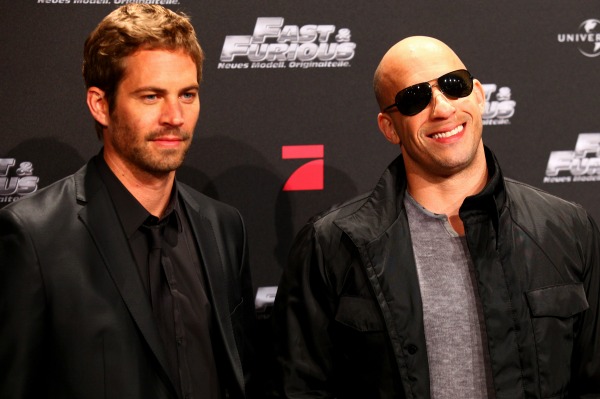 Fellow actors, friends and co-stars of Paul Walker are in complete shock over the Fast & Furious actor's death yesterday in a brutally violent car accident.
Walker was a passenger in a Porsche Carrera GT driven by a friend, pro driver and financial planner Roger Rodas, when the car lost control. According to witnesses, it slammed into a pole and a tree and burst into flames in front of horrified onlookers, including Rodas' 8-year-old son.
Walker's reps confirmed his death in a statement on his official Facebook page.
"It is with a truly heavy heart that we must confirm that Paul Walker passed away today in a tragic car accident while attending a charity event for his organization Reach Out Worldwide," they wrote. "He was a passenger in a friend's car, in which both lost their lives. We appreciate your patience as we too are stunned and saddened beyond belief by this news. Thank you for keeping his family and friends in your prayers during this very difficult time. We will do our best to keep you apprised on where to send condolences."
Other friends, co-stars and celebs expressed their grief on Instagram and Twitter.
"Your humble spirit was felt from the start, wherever you blessed your presence you always left a mark, we were like brothers & our birthdays are only 1 day apart, now You will forever hold a place in all of our hearts @paulwalker legacy will live on forever. R.I.P.," Ludacris wrote.
"My heart is hurting so bad no one can make me believe this is real Father God I pray that you send clarity over this cause I just don't understand My heart hurts it's broken no one can convince me that this is real," wrote Tyrese. "Prayer warriors please pray real hard for his only child, his daughter and family...#HeartOfAnAngel13YrsFamilyForeverWeJustCelebreatedYour40thBirthday..... My God... My God... I can't believe I'm writing this."
"At least I got to say I love you," Tyrese continued. "#OurLastExchange but our laughs and moments will live forever#ThisIsWorstThanMyWorstNightmare#GodiLoveYouAndiwillneverquestionYou.... But this I just don't understand #PaulForeverFamily#MyHeartHurtsSoBad please pray for his daughter and family..."
My heart is hurting so sad. Paul walker was a good man. RIP my friend... Sorry to the Walker family.

— Vin Diesel (@OffVinDiesel) December 1, 2013
Brother I will miss you very much. I am absolutely speechless. Heaven has gained a new Angel. RIP. pic.twitter.com/leCBT0sZkG

— Vin Diesel (@OffVinDiesel) December 1, 2013
No, @RealPaulWalker. No. No. No. Rest with the angels. You. Sweet boy. #beauty #love #RIP

— Alyssa Milano (@Alyssa_Milano) December 1, 2013
December 1, 2013
#RIPPaulWalker -he was a lovely person -so sweet and grounded. My heart goes out to his family. pic.twitter.com/w8Ep7AcKOZ

— Jessica Alba (@jessicaalba) December 1, 2013
Our family mourns the loss of Paul. A very special Human being. Our prayers go his beloved family

— Goldie Hawn (@goldiehawn) December 1, 2013
This is awful. Awful. #RIPPaulWalker pls pray for his family, friends & fans. We've lost a great, laid back, sweet, cool man & father

— Gabrielle Union (@itsgabrielleu) December 1, 2013
Man life is so short. People you care about can be here one min and gone the next Don't take life for granted RIP Paul Walker

— Michael B Jordan (@michaelb4jordan) December 1, 2013
I just heard and am in shock. Prayers to Paul Walker's family. Life is precious, never take a day for granted. #RIPPaulWalker

— Vanessa Lachey (@VanessaLachey) December 1, 2013
#paulwalker - much love to paul walker. So sad. He gave a lot of joy. http://t.co/MVsZUMvx9T

— James Franco (@JamesFrancoTV) December 1, 2013
RIP Paul Walker.. Eerie that the star of The Fast & The Furious died in a car accident.. God Bless his daughter

— Mario Lopez (@MarioLopezExtra) December 1, 2013
Our prayers go out to the family of paul walker, teamX

— DMX (@DMX) December 1, 2013
Heavy heavy heart tonight. Paul Walker was a genuinely good, sweet, kind, laid back, loving person. Sending much love to his family.

— olivia wilde (@oliviawilde) December 1, 2013
Really hard to find words to say when someone passes too soon. Very heartbreaking about Paul Walker. Sending prayers to his loved ones. RIP.

— Lucy Hale (@lucyhale) December 1, 2013
A very sad day indeed. R.I.P. Paul Walker. Our prayers are with you and your family.

— Zoe Saldana (@zoesaldana) December 1, 2013
I am so beyond heartbroken right now. I can't process anything.

— James Wan (@creepypuppet) December 1, 2013
Thoughts and prayers tonight are with Paul Walker's friends and family, especially his little girl. So sad. Very heavy heart tonight.

— James Van Der Beek (@vanderjames) December 1, 2013
I just remember him as being so effortlessly golden. He had that way about him, that "thing"... #rippaulwalker #TeamPW

— James Van Der Beek (@vanderjames) December 1, 2013
Damn. Hard to imagine someone so full of life taken so soon. My thoughts go out to your family. RIP Pauly Walker

— Josh Jackson (@VancityJax) December 1, 2013
My heart is crushed by the news that my friend Paul Walker passed away today. Prayers and light to his daughter and family right now.

— Michael Ealy (@MichaelEaly) December 1, 2013
Paul was a truly good person in a town of questionable characters. ..A real life tragedy if there ever was one.

— Rachael Leigh Cook (@RachaelLCook) December 1, 2013
Paul was a good dude. Conscientious & not caught up in Hollywood. He knew there was more to life & lived like it. Nice to know you brotha.

— Ryan Phillippe (@RyanPhillippe) December 1, 2013
I'm a devastated right now. My prayers & condolences go out to Paul Walkers family & friends. He was a amazing talent & will truly b missed

— Kevin Hart (@KevinHart4real) December 1, 2013
All my strength, love & faith to the Walker family during this heartbreaking time. We find our strength.. in his light. Love you brother.

— Dwayne Johnson (@TheRock) December 1, 2013
Paul was pure light. I cannot believe he is gone.

— Jordana Brewster (@JordanaBrewster) December 1, 2013
Dwayne Johnson sat down with Entertainment Weekly to talk about his co-star and friend.
"He was motivated by work that allowed him to take care of his family, number one, and that also allowed him the power and the leverage to help people in need and in crisis," The Rock told the mag.
"We would talk about silly guy things, his fast cars and my pickup trucks, or we would talk about the beautiful energy of Hawaii — but it always ultimately came back to family. And very specifically the beautiful and important bond between a father and his daughter, and how we both realized that over the years."
Tell us: What are your favorite memories of Paul Walker?
Image courtesy WENN.com