Thank you to everyone who watched the first episode of the show tonight! I can't wait for you to watch my love story unfold each week. As you could see, tonight the drama of city versus country has already started. My favorite part of the show tonight was watching the guys' reactions to each other — mainly city versus country. This is the first time I saw them moving in and meeting each other.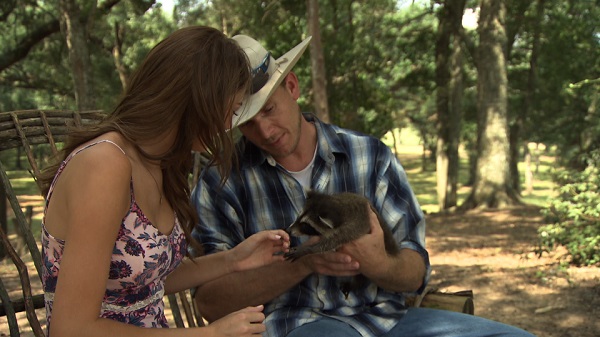 I was so nervous to meet the guys. When I pulled up in the truck, I completely lost my train of thought. It was such a humbling experience to know that each of the 22 guys was there just for me and that they had traveled from all over the country!
Right off the bat, I could see that there were guys there that I'm not used to being with. I was so overwhelmed with meeting them. At least I was able to break the ice by hosting a mini tailgate, complete with delicious game-day eats and cornhole. We had so much fun getting to know one another in a laid-back, relaxed environment.
I was fortunate to have a little bit of one-on-one time with each of the guys before eliminations took place that evening. My main goal was to give each guy an opportunity to see the real me. Yes, I was just as shocked as you were to see Collin from Season 1 back. (P.S. I had the biggest crush on him!) Jason also made quite the impression with his interesting pet — the raccoon came out of nowhere, and she was just so cute!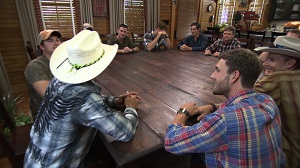 Unfortunately, I had to say goodbye to two of the guys later that evening. So, all 22 guys and I met up at beautiful Oak Hollow Farm. Oak Hollow's owner, Boyd, signaled each guy I wanted to speak with personally by a tap on the shoulder. First, I wanted to talk with Anthony. While he's such a nice, ambitious guy, I knew we didn't have enough in common to have a lasting relationship. I had to eliminate him because of this. I then met with Jason. Jason is a true Southern gentleman, but I know that in the end, we'd be more like friends. So, I had to say goodbye to him as well.
I'm looking forward to you getting to know the guys better as the season continues. It was such a fun experience, and in the end, I know I found true love!
Xoxo Kelsey
Kelsey's recaps
Be sure to check back here every week for Kelsey's blog posts, in which she'll share her thoughts on what happened during and behind the scenes of each episode.