Bieber's Flag Incident
Justin Bieber is in agua caliente after seemingly desecrating the Argentinian flag on stage.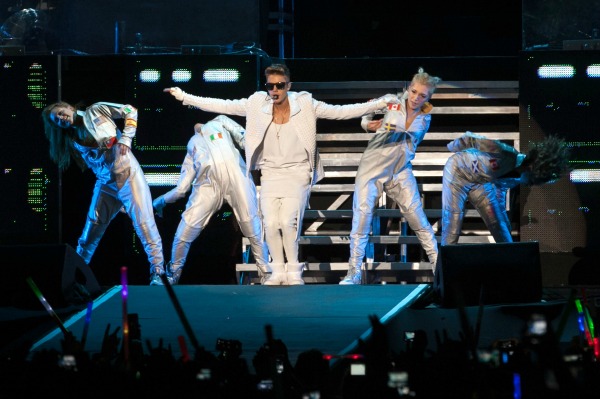 Justin Bieber is back on America soil, and not a moment too soon. After nearly causing several international incidents during the South American leg of his tour, his latest escapade is leaving some Argentinians calling for jail time.
At his Buenos Aires show Sunday, a fan tossed a couple of Argentinian flags onto the stage, where they landed at Bieber's feet. The singer was then caught on video kicking at the flags and pushing them around with his mic stand, eventually dropping them off the stage.
Watch Justin Bieber mistreat the Argentinian flag
The move left many fans and foes alike absolutely outraged.
bieber wiped the floor with the argentinean flag which is punishable by 4 yrs in prison. justice i'm counting on you.

— taco bell (@TRILLLIRRY) November 14, 2013
Mrs bieber used my country's flag to clean the floor, if i ever have the chance to meet him i wish i can have an ak-47 a revolver and nine

— Eminem SOLDIER♬ (@Lovemusiceminem) November 14, 2013
I'm sorry wtf is up with Justin Bieber? Using Argentinas flag as a mop? How disrespectful is he? He's gone too far trying to be "bad"

— ◆ ◆ ◆ (@Analyyxo) November 14, 2013
So In other news Justin Bieber wiped the stage floor with the Argentine flag, this kid needs to get the hell out of South America

— Fabiana Maldonado (@Fabiana_Maldo) November 14, 2013
Kinda losing respect for Bieber. Sleeping around? Peeing in buckets while flicking off a president? Disrespecting Argentina's flag? Idkkk.

— Leeza:) (@Bieber_Mahonian) November 14, 2013
Justin Bieber doesn't get it...he mistreats the Argentinian flag? How disrespectful! What a jerk http://t.co/Wf57ZXyVhn

— PrinceMermanMike (@MikeTeamAaryn) November 14, 2013
But others defended the singer's actions, saying that he probably didn't know it was a flag and all unnecessary objects are removed from the stage for the safety of his dancers.
THIS FRUSTRATES ME SO MUCH HE KICKED IT OUT THE WAY SO THE DANCERS AND HIMSELF DONT HURT THEMSELVES http://t.co/N0CkwFTN7Z

— ♡ 9 days ♡ (@DynamicRauhl) November 14, 2013
http://t.co/pDVrgQrafM Do they not realise him and his dancers kick EVERYTHING off stage bc it's a trip hazard?

— Tasha (@tashaleahk) November 14, 2013
@RollingStone then why the hell was it thrown on stage!!! That's mistreating the flag. Oh but let's blame Bieber..he's always the scapegoat

— Michele Widmar (@mmwidmar) November 14, 2013
Bieber's manager, Scooter Braun, commented on the hubbub on Twitter, too.
Spent my day dealing with pandemonium that @justinbieber caused in Argentina

— Scooter Braun (@scooterbraun) November 10, 2013
The incident has the potential to become quite a mess. According to the Associated Press, "Insulting Argentina's flag is a crime punishable by up to four years in prison."
But Bieber doesn't seem too worried. In fact, he seems pretty oblivious.
need to say thank u to all the countries from the last run. i see u brazil, argentina, chile, and all the rest of you. I love u. thank u

— Justin Bieber (@justinbieber) November 13, 2013
Tell us: Should Justin Bieber go to jail for his flag hijinks?
Photo credit: WENN.com
Read more Justin Bieber
Katy Perry tops Justin Bieber on Twitter — but is it real?
The girl Justin Bieber wishes would go away: Tati Neves
Justin Bieber hitches a ride up the Great Wall of China