Country Icon Tired
And Sore
Sixty-seven-year-old country music icon Dolly Parton is feeling "tired and sore" following a car crash in Nashville, Tennessee, yesterday.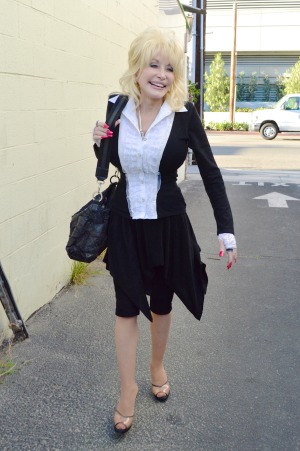 Dolly Parton was rushed to hospital yesterday after being involved in a car crash.
The "9 to 5" hitmaker collided with another vehicle in Nashville, Tennessee, and medics rushed her to the local Vanderbilt University Medical Center, in Nashville, after the incident.
According to local police reports, the country music icon had been in the passenger seat of her good friend Judy Ogle's Nissan Xterra when the driver of a Mitsubishi Diamante failed to stop at an intersection. The incident according to police reports happened at 11:41 a.m.
Luckily, the "I Will Always Love You" singer did not suffer any serious injuries, nor did any other parties involved in the crash, but it was a terrifying experience for the 67-year-old singer.
The past few months have been tough for Parton, following her recent preventative surgery for cancer and now this crash.
Parton took to Twitter several hours after the incident to let her fans know the news and confirm that she was all right.
I was in a fender bender this morning here in Nashville, but I am all good... Just a little tired and sore. Resting at home now!

— Dolly Parton (@DollyParton) October 21, 2013
According to her publicist Kirt Webster, Parton will be recovering at home.
While the incident is awful and the star is "tired and sore", perhaps she will have some time to reach out to her goddaughter Miley Cyrus and keep her twerking in check.
Feel better, Dolly!
Photo credit: WENN.com
Read more Dolly Parton
Dolly Parton gay? The buxom blonde's bond with Oprah
Queen Latifah laughs about putting Dolly Parton in a headlock
Dolly Parton aghast about baby left on her doorstep