What Better Place To Vent Than Twitter?
In the 17th century, duels were the public forum for duking it out. Today, we have Twitter. As the year comes to a close, we look back at the most jaw-dropping tweets by celebs looking to get something off their chests.
(page 3 of 3)
Some tweets in 2013 proved so scandalous that the stars responsible decided to delete them. But not before they were seen and saved by the world, of course!
If a girl is drunk, is it OK to have sex with her? — Dr. Phil
Really, Dr. Phil? The fact that you even had to ask the question makes you look less than scrupulous, at best. While the talk-show host claimed it was meant to elicit conversation pertinent to an upcoming episode of his show, fans were understandably less than thrilled by Dr. Phil's frat-boy line of questioning.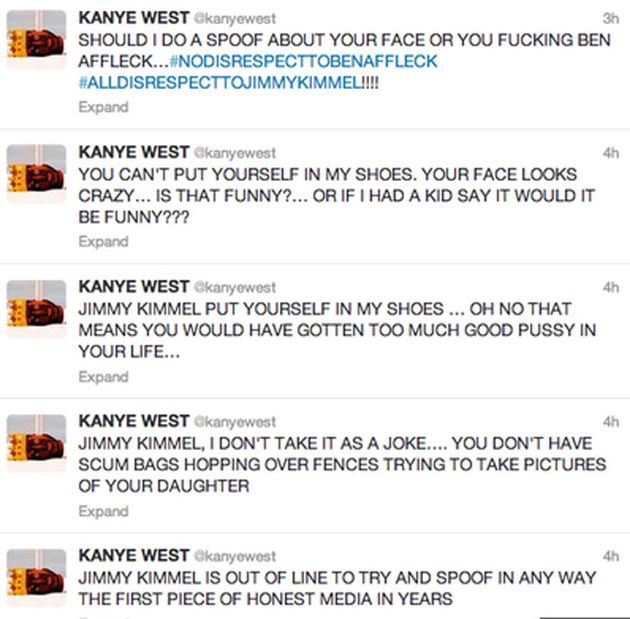 Kanye West frequently flies off the handle about random things, but what makes these tweets most shocking is that Kimmel responded by inviting West to appear on his show. And, wouldn't you know, the two managed to work things out. Isn't it nice what we can accomplish when we get along, guys?
@chrissyteigen Ur not a pretty model compared to me. I signed to Ford models @ age 13. I don't look up to u beauty wise. I'm far prettier than u! I'm offended that you're saying I have a mental illness when I show no sign of it, but thankfully not one man that wants me wants you and you are an old ugly model compared to me! You look 45! You're not pretty so I'm not intimidated by you! I think you're jealous that you're just an ugly model whos career is uninspiring! I don't respect you! You're no beauty queen! I'm a beauty queen!  — Amanda Bynes
Admittedly, it was a banner year for Amanda Bynes in the way of shocking tweets. While we would say poor Chrissy Teigen, we're pretty sure the gorgeous (despite Bynes' insults), successful model didn't lose any sleep over this silly tweet.

Our first thought upon reading this tweet was, "That's inappropriate." Our second? Maybe it's the 'roids talking. Wait... can we say that out loud?
Dat b**** Katy Perry Can Suck Skin Off my D***. I'll Smack The S*** out her. — Chief Keef
It started with Katy Perry tweeting, "Just heard a new song on the radio called 'I hate being sober.' I now have serious doubt for the world." When then 17-year-old rapper Chief Keef caught wind of Perry's words, he responded with this little gem — which makes us feel icky and hope his mama washed his mouth out with soap.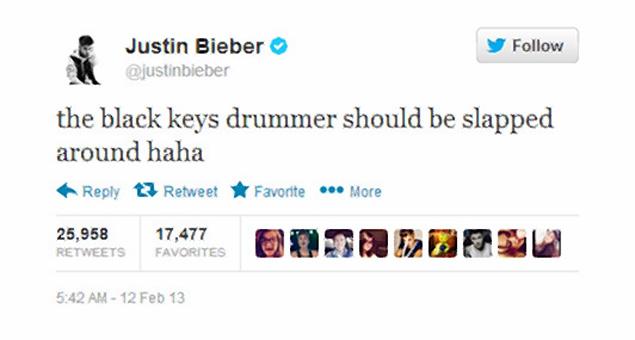 Sorry, Biebs... you may have thought you won the battle when you tweeted this about Black Keys drummer Patrick Carney, but he won the war with a series of hilarious tweets done "Bieber-style."
STAY AWAY FROM ME + MY FAMILY YOU ARE SICK TRYING TO RENT AN APARTMENT IN MY BUILDING TO STALK ME. LEAVE ME ALONE!! —Lady Gaga to Perez Hilton
We just hate to see a Hollywood friendship go the way of Heidi Montag and Lauren Conrad — especially when it's Lady Gaga and perennial gossip Perez Hilton. But, clearly, Mother Monster doesn't want Hilton around any longer. Ouchie.

As you've probably realized from the rest of this list, Amanda Bynes has a special knack for pulling drama out of any situation. She also has a knack for picking fights with super-nice celebs. Case in point...
@billyraycyrus since you won't reply to my texts I'm giving you an hour to tell the truth or ill tell it for you. — Miley Cyrus
Shocking? Absolutely. Purposely vague? You bet. Still a total frickin' mystery? Of course. This tweet from Miss Miley sounds dangerously close to a threat to her dear old dad, Billy Ray Cyrus. Don't you think?
45 - 50: Alec Baldwin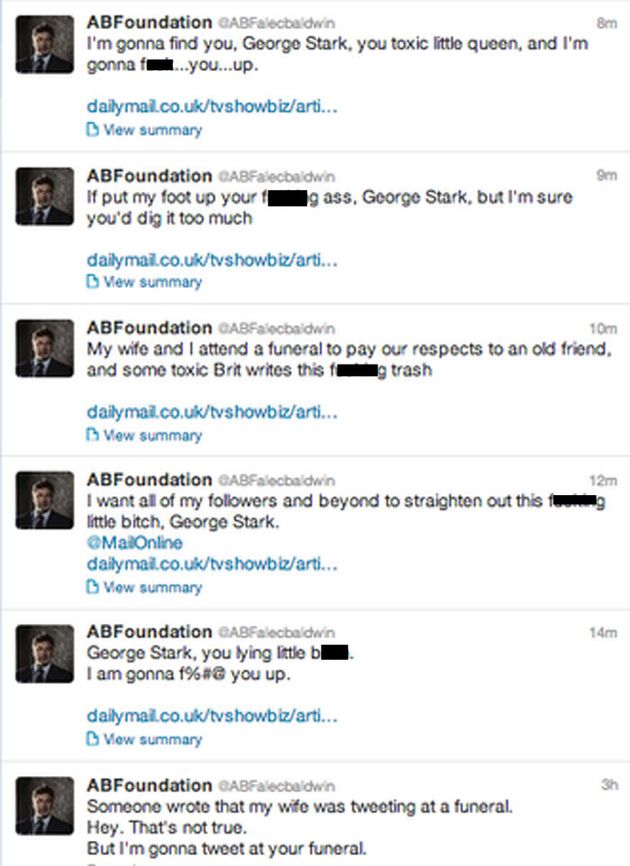 Rounding out the list with a string of shocking tweets is none other than the most incendiary Baldwin brother himself, Alec. Here, his rage has been cued up by Daily Mail journalist George Stark, who implied Baldwin's wife Hilaria was tweeting during James Gandolfini's funeral.
Images courtesy of Twitter