Nothing Compares
2 Feuds
Miley Cyrus thought she could shut down Sinead O'Connor with a couple of smart aleck tweets. She thought wrong.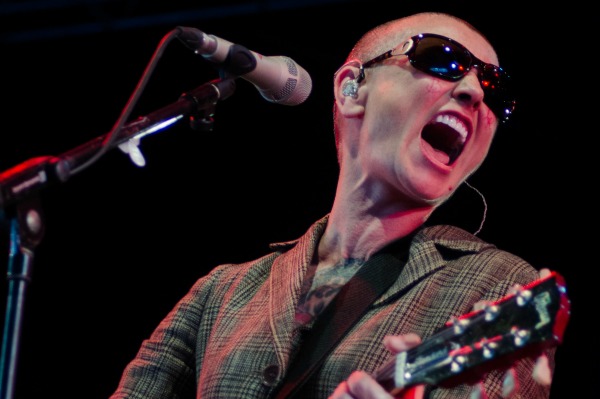 Oh, Miley. You done ticked off the wrong Irish woman. Sinead O'Connor has put master twerker Miley Cyrus back in her place after the "Wrecking Ball" warbler published a series of snotty tweets in response to the feisty singer's open letter, and if it all wasn't so sad it would be hilarious.
Cyrus retweeted a series of the "Nothing Compares 2 U" singer's musings on her state of mental health (hint: it's not great) writing, "Before Amanda Bynes… There was…"
She then posted a screen shot of O'Connor's infamous 1992 Saturday Night Live performance, which she ended by ripping up a photo of the pope.
#SNL pic.twitter.com/6Cq9pewEO0

— Miley Ray Cyrus (@MileyCyrus) October 3, 2013
Sinead. I don't have time to write you an open letter cause Im hosting & performing on SNL this week.

— Miley Ray Cyrus (@MileyCyrus) October 3, 2013
So if youd like to meet up and talk lemme know in your next letter. :)

— Miley Ray Cyrus (@MileyCyrus) October 3, 2013
Guess who is not amused?
"Who the f*** is advising you? Because taking me on is even more f****** stupid than behaving like a prostitute and calling it feminism," O'Connor wrote in yet another open letter to the pop star. "You have posted today tweets of mine which are two years old, which were posted by me when I was unwell and seeking help so as to make them look like they are recent. In doing so you mock myself and Amanda Bynes for having suffered with mental health issues and for having sought help."
"It is most unbecoming of you to respond in such a fashion to someone who expressed care for you. And worse that you are such an anti-female tool of the anti-female music industry."
"Furthermore you posted a photo of me tearing the pope's photo... as if to imply insanity. I suggest you read The Philadelphia Report, The Boston Report, all the reports which will illuminate for you why that action of mine remains sane and valid," she ranted. "By mocking it you mock every child who suffered sexual abuse at the hands of priests and had it covered by the Vatican. You could really do with educating yourself, that is if you're not too busy getting your tits out to read."
"I hope that you will apologize to Amanda Bynes and to any person who has been wounded by your mockery of those who have suffered," O'Connor finished.
Tell us: Are you Team Miley or Team Sinead?
Images courtesy Joel Ginsburg/WENN.com