Everyone Is Talking About Jessie & Walt
Celebs tweet their love for, shock at, best guesses about and annoyance with Breaking Bad's series finale.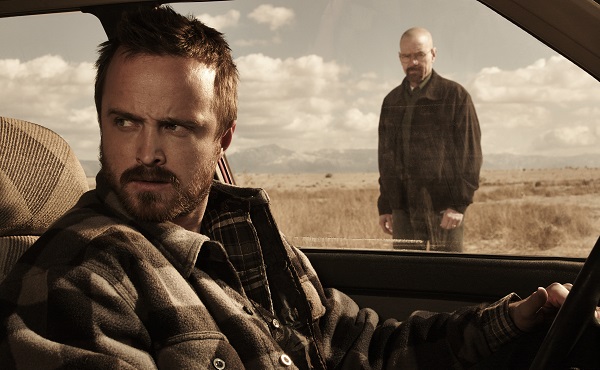 Obsessed with Breaking Bad? So is all of celebrity culture. We trolled Twitter just for you to find all the best celebrity reactions to the absolutely perfect series finale of Breaking Bad. Here's what the stars had to say, B****.
Well, this is it. The last episode ever of Breaking Bad. Thank you for sharing this ride with me. Without you we never would have lasted.

— Bryan Cranston (@BryanCranston) September 29, 2013
BREAKING BAD !!!!! Excellence personified !!!

— Giancarlo Esposito (@quiethandfilms) September 30, 2013
And that right there is how you end a series. #BreakingBad

— Wil Wheaton (@wilw) September 30, 2013
Nobody's talking. For once. :) #breakingbad http://t.co/voNQ6FKUOy

— I. Marlene King (@imarleneking) September 30, 2013
PLEASE no "BB" spoilers in my timeline. I've been waiting all week for this and I won't get to watch Bob's Burgers 'til 11pm.

— Patton Oswalt (@pattonoswalt) September 30, 2013
Might've stayed up to watch breaking bad finale

— Ed Sheeran (@edsheeran) September 30, 2013
Just saw an ad for the show that I am currently watching. Awesome.

— jimmy fallon (@jimmyfallon) September 30, 2013
(He was definitely watching Breaking Bad. We saw the tweet and the commercial at the same time.)
#AzizBreakingBadTheory: Jason Street shows up in his wheelchair. Walt notices a strange bell. REVEAL: Street working w/Grandma Saracen.

— Aziz Ansari (@azizansari) September 29, 2013
(There were a million of these. This is just our favorite. And, yes, that's a Friday Night Lights reference.)
#BreakingBad ends tonight. No more murderous drug dealers and horrifying criminals. I miss it already.

— Ellen DeGeneres (@TheEllenShow) September 29, 2013
"it's Miller Time" ad during Breaking Bad makes me miss Mike Ehrmantraut

— rob sheffield (@robsheff) September 30, 2013
This is way better than what everyone guessed. Killing Gretchen and Elliot would have been a bore. Go Vince Gilligan! #BreakingBadFinale

— Ann Coulter (@AnnCoulter) September 30, 2013
Omg! #BreakingBadFinale

— Ricki Lake (@RickiLake) September 30, 2013
Finally, this dude isn't a celebrity, but we found his tweet and think y'all might want to keep an eye on him. Things could get interesting... or really depressing.
In honor of the Breaking Bad finale I've smoked about 5 ounces of meth. So I'll be live tweeting this trip until June.

— ★☆ Meth Cat ☆★ (@Lazer_Cat_) September 30, 2013
Phew! What an intense hour and 15 minutes. What did you think of Breaking Bad's series finale? Was it everything you wanted? Tell us!
Image courtesy of AMC