They Can't Drink,
But They Can Rock
Billboard has come out with its list of the top 21 artists under 21. Check out who made the cut and should be celebrating the honor (with sparkling apple juice, of course).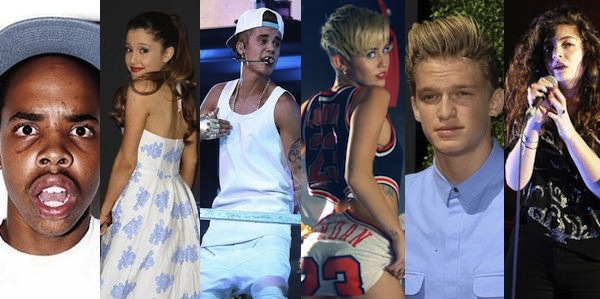 1992.
That's right. 1992.
Babies born in 1992 turn 21 this year.
But that's not a reason to feel old. Some of the artists on Billboard's "Top 21 Under 21" list have been partying like they are 40 (ahem, Miley).
Whether they have a squeaky-clean image or they're Justin Bieber, these 21 artists are certainly "what's next" in music.
You may not be familiar with them all, but you probably will be soon enough. So let's check out who made the list.
Check out the rest of Billboard's "Top 21 Under 21"
13. Bridgit Mendler
14. Miguelito
15. Joey Bada$$
16. Tori Kelly
17. Martin Garrix
18. Mindless Behavior
19. Matty B.
20. Lee Hi
21. Fifth Harmony
TELL US
What do you think of Billboard's list? Any surprises? Anyone Billboard missed? Let us know in the comments below.
Photo credits: WENN.com, Judy Eddy/WENN.com, Andres Otero/WENN.com, Ivan Nikolov/WENN.com, Patrick Hoffmann/WENN.com, Dominic Chan/WENN.com, Apega/WENN.com, Brian To/WENN.com, C.M. Wiggins/WENN.com