Britney Spears Takes Vegas!
Britney Spears has a major announcement this morning, and let's just say your next trip to Vegas might be a lot more Toxic than usual.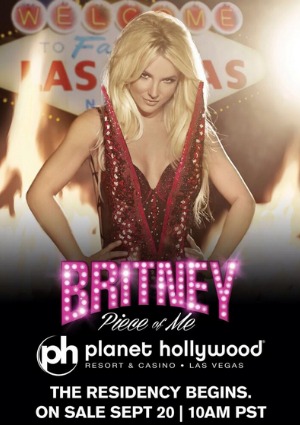 Wayne Newton, Cher, Céline Dion, Elton John and now Britney Spears: They are pop legends who have all wound up with lucrative Vegas gigs. The blond bombshell just announced that she is taking on a two-year residency in the City of Sin!
In a special appearance on Good Morning America, the former The X Factor judge flew in via helicopter to announce the news to a horde of screaming fans and said her performances will be housed at Planet Hollywood.
"We wanted the environment to be that way so people could come and have a good time and stand up and feel like they're in the show with me," Spears explained. "I love Vegas. The energy here is really, really good."
She really does love Vegas: The star had a rep back in the day of partying her tail off there and even staged a spur-of-the-moment wedding to childhood friend Jason Alexander during a wild weekend wearing jeans, a belly top and a trucker hat, only to have it annulled 55 hours later.
Spears also said we might see one or both of her sons on stage with her — after all, they did appear in her "Ooh La La" video.
"Preston will probably be on stage," she said, "but I think Jayden would have a hard time with it."
While the terms of Spears' two-year deal have not been released, it is safe to say the pop star is making bank. For example, Céline Dion's most recent three-year Vegas residency was said to be worth $100 million.
Watch Britney Spears announce her Las Vegas residency
Getting to the venue to make the announcement itself may have been more nerve-wracking than any stage fright the stage veteran might get — she later tweeted the news to fans and said she was terrified of flying in the helicopter.
Y'all that will be the last time u EVER see me in a helicopter. Love u @GMA & that was INCREDIBLE but helicopters are not for this girl :(

— Britney Spears (@britneyspears) September 17, 2013
But yes it's TRUE! Proud to announce that I will be taking over Vegas at @phvegas starting in Dec. #PlanetBritney

— Britney Spears (@britneyspears) September 17, 2013
I want to see ALL of your faces there over these next two years... I mean it!! Tickets for the 1st shows go on sale this Fri 9/20 @ 10am PST

— Britney Spears (@britneyspears) September 17, 2013
Spread the word! #PlanetBritney #PieceOfMe #December2013

— Britney Spears (@britneyspears) September 17, 2013
Spears' Las Vegas residency starts December 2013 and is contracted to last through 2015.
Image courtesy Britney Spears/Twitter
Read more Britney Spears
PHOTOS: Britney Spears' body through the years
Britney Spears' "Work Bitch": Club beat or workout anthem?
Britney Spears' new album will be her "most personal ever"