Kristen Bell

Oh, and the Veronica Mars movie!
SheKnows Girl Crush Kristen Bell chats with us about being a new mommy, reprising her role as Veronica Mars and why she's a fan of the "giveback."
In 2004, a then-little-known actress burst onto the scene as a perky blonde high-school student in the CW series Veronica Mars. By the time the show wrapped three years later, the star — whose clever character stayed busy juggling classes and solving crimes — had developed a doggedly loyal following. Her name was Kristen Bell.
Today, Bell is a big-ticket star. In addition to landing choice movie roles alongside leading Hollywood men like Jason Segel and Josh Duhamel, the petite entertainer is currently starring in the hit Showtime series House of Lies with critically acclaimed actor Don Cheadle, who won a Golden Globe and was nominated for an Emmy for his work in the series.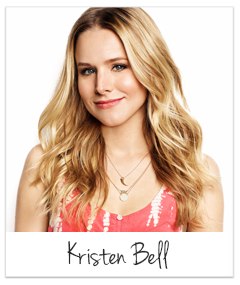 The role Bell relishes most, however, is being a new mommy. "Every cliché you've heard about having a baby is true," she tells us. "I really want to spend all my time with her, so now pulling myself away for work is a little bit more difficult."
Happily for fans, the super-likable (and funny! Did you see her host the CMT Awards?) actress channeled her last trimester nesting energy into raising money to fund the long-awaited Veronica Mars movie. On March 13 — only a couple weeks shy of giving birth to her and fiancé Dax Shepard's daughter Lincoln — Bell and screenwriter Rob Thomas launched a Kickstarter campaign with a goal of $2 million. They reached it in less than 10 hours, ultimately hitting the nearly $6 million mark.
Of heading back to the fictional town of Neptune, California, the actress says she's thrilled most for the fans. "I'm excited that they're going to have a Christmas morning pretty soon, 'cause they deserve it."
And she's not joking. The "Cloud Watchers," as Bell's Veronica Mars' fans call themselves, petitioned tirelessly for first the show and then the movie. When the series was canceled, they mailed more than 10,000 Mars Bars to the CW studios and hired a plane to fly over the offices pulling a banner that read "Renew Veronica Mars."
After sitting down with the unassuming, 5'1" star, we can see why she elicits such respect from fans: She cares — about her family, about her fans, about people; a fact made all the more evident by her involvement with This Bar Saves Lives.
"I guess being pregnant and having so much food on the brain, I was kind of just pondering the idea of hunger in general in this country and in other countries, and one of my very close friends, Ryan Devlin, said to me, 'You know, I've been working on this idea of a bar that's a giveback — that every bar that's purchased here donates a life-saving nutritional packet to a child in need.'"
She jumped at the opportunity to support Devlin "at any cost," and the result (so far) is over 25,000 bars sold, or the equivalent of roughly 6,000 lives saved.
That heart of gold landed Bell a spot as our October Girl Crush of the Month. But with so much to be proud of, what else could the 33-year-old entertainer possibly have left on her bucket list? Marriage? More philanthropy? Watch our telling sit-down with Bell to find out.
---
Photos
---
Learn more about This Bar Saves Lives and get involved.
Click here!
---
Girl Crush Quickie
What are you most scared of?
People not liking me.
What's been your best Halloween costume?
A few years ago, I was really into puns so my friends and I did 'Golden girls gone wild' and went as sexy grandmas.
What's the best advice you've ever received?
'If it doesn't matter in five years, it doesn't matter.'
What is your favorite children's book?
Life Doesn't Frighten Me — conceived and edited by Sara Jane Boyers, words by Maya Angelou, drawings by Jean-Michel Basquiat.
If you could live in a different era, what era would you live in?
I like this era. We have the best sanitation. But I guess the Roaring '20s seemed very romantic.
Fill in the blank. One of the best feelings in the world is ________.
. . . making someone laugh.
What (other) TV show should be turned into a movie?
The Newsroom.
What's your favorite quote from a movie?
"Kinda hot in these rhinos!"– Ace Ventura


Image courtesy of Lia Toby/WENN.com