The Family Hit The Ballpark
It's a sweet time for Vanessa Lachey! Not only did her baby boy turn 1 last week, she's starring in a new FOX sitcom this season.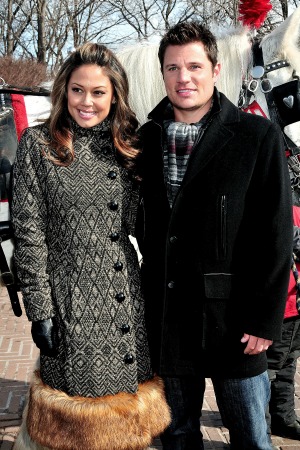 Vanessa Lachey seems to be riding both a personal and professional high these days. Over the weekend, the Lachey family celebrated their son Camden's first birthday in husband Nick's hometown of Cincinnati, Ohio.
Vanessa posted photos for her followers on Twitter including pictures of the blue and white cupcakes adorned with a star and a zebra from her brother-in-law Drew Lachey and his wife Lea, to the adorable onesie that said "Made in Ohio." The family of three shared a pretty special weekend.
The 32-year-old mom also uploaded a cute family photo of them at the Cincinnati Reds' baseball game. The trio was dressed in matching red jerseys that said "Lachey" on the back while they watched the game at the Great American Ball Park.
Cam's 1st Birthday in Cincy was a success! Beautiful day, lots of sweets, and so much Love! #TimeFlies pic.twitter.com/8jV9nBXwqR

— Vanessa Lachey (@VanessaLachey) September 16, 2013
Dad Nick also got into the social media action with a sweet message to Camden. The little one officially turned 1 on Sept. 12, but they waited until the weekend to celebrate with their Ohio family because Vanessa is busy promoting her new FOX sitcom, Dads.
Celebrating one year in the life of the most amazing little boy @VanessaLachey and I could have ever imagined!! Happy 1st birthday Camden!!

— Nick Lachey (@NickLachey) September 12, 2013
The Seth MacFarlane-created show is set to air Sept. 17 with co-stars Seth Green and Giovanni Ribisi. The show is already controversial for having racist undertones and crass humor. However, the network has placed strong support behind the show by already ordering 13 episodes for the season.
Photo credit: WENN