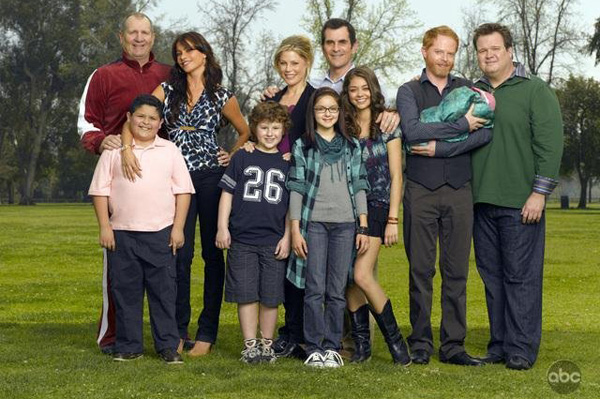 Is your family a
Modern Family?
ABC's Modern Family really lives up to its name. The show, while a comedy, has brought many modern family issues to the forefront. Your family might have had these characters before the show began, but Modern Family brought them to the forefront of our culture's mind's eye, giving them a platform in the context of a normal, everyday American family.
An adopted child
Adoption is by no means uncommon, but when the adopted child is of a different race, it adds a unique twist to family dynamics. While Mitchell and Cameron can't conceive on their own, they are able to bring a child into their relationship. Lily was adopted from Vietnam into a loving, but atypical home. She might have come from humble beginnings, but Lily quickly became the princess of the house in Mitchell and Cameron's eyes. Your family might have an adopted child that might not be biologically yours, but you already know the power of looking into the eyes of a helpless baby in need. It's love!
A same-sex couple
Do you have a same-sex couple in your family? Gay couples were very much taboo in American television family comedies, up until the lovable Mitchell and Cameron came on screen in 2009. Sure, same-sex couples were shown on shows like Will & Grace and Ellen, but Modern Family tamed their love, putting them in normal, everyday situations and reframing homosexual relationships as just another type of romantic relationship — not the sex-focused situations of some misguided shows in the past.
An older father
Jay Pritchett, portrayed by Ed O'Neill, is a older-than-normal patriarch. It's becoming more and more common in real life as people choose to have children older or remarry. In Jay's case, he married the super-sexy, much younger Gloria, portrayed by Sofia Vergara. Gloria's character had a son when she met Jay, so when he fell in love with her, he fell in love with Manny too. He might not be his biological son, but the unlikely duo of laid-back Jay and theatrical Manny totally works on screen.
A mixed-race family
It's becoming more and more common for families to have more than one race in the mix. While the Pritchetts and Dunphys are Caucasian, adopted Lily is Vietnamese and Gloria and her son, Manny, are of Latin descent. The show reflects the changing cultural norms seen throughout the country. Do you have a mixed-race family? Are you in a mixed-race couple? In the 21st century, it's the new normal.
More great TV
Breaking Bad gets spinoff for Saul Goodman
Interview: MasterChef's Graham Elliot talks crowning Luca Manfe Season 4's culinary king
Who's hotter: Zooey Deschanel or Mindy Kaling?