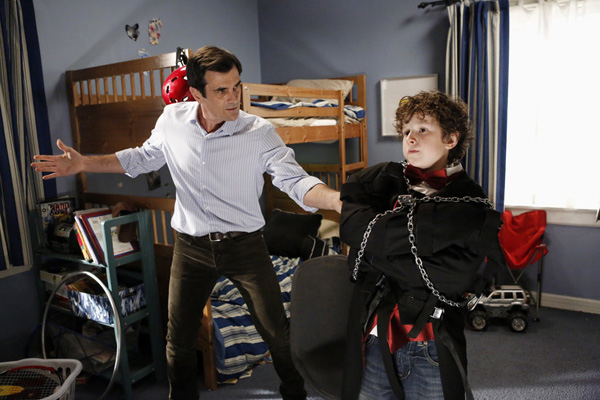 LOL at these
classic TV scenes
The Dunphys, the Barones, the Bluths... what is it about these kooky TV families we love so much? Maybe it's their ability to make us feel better about our own dysfunctional families! Here are some of the funniest scenes featuring our favorite television families.
Modern Family: Phil helps Luke get a date
The juvenile yet lovable Phil Dunphy from Modern Family is at his best in this clip where he bogarts his son's computer and tries to help him score a date. Phil's son might not know how to woo a cute girl on Facebook, but dad sure does. This scene includes one our favorite "Philisms" — "Please… you're in the hands of a master. I think I know how to pick up a 14 year old girl… for you."
Everybody Loves Raymond: Frank and Marie announce they're moving
No family portrays the difficulties of living next door to your parents better than the Barones. When Frank and Marie tell the kids they're going to be moving 85 minutes away, the reaction of Ray and Debra and Robert and Amy is priceless. Try as they may, it's impossible to contain their excitement.

Seinfeld: George Costanza and his mom
The Costanzas are one of our all time favorite comedic TV families. George Costanza's mother Estelle, in particular, is the ultimate overbearing, judgmental mother. In this classic scene, Estelle gives George the business after finding him in a... shall we say... compromising position with himself — when she walks in on him.

Arrested Development: Chicken dance
Poor Michael Bluth. As acting head of the family and CEO of the company business while his father serves jail time, Michael seems to be the only level-headed member of the Bluth family. This scene pretty much sums up his family's attitude towards Michael, as they mock him mercilessly for being afraid to ask out a girl on a date. Cue "the chicken dance"...

Roseanne – Dad's Dead!
When Roseanne and Jackie's dad dies, Jackie gets the job of calling an elderly (and hard of hearing) family member to deliver the sad news. After repeated attempts to tell Auntie Barbara about the death, Jackie resorts to screaming "Dad's dead!" into the phone, and eventually giving up, delivering the line "He's fine. He sends his love."

Frasier: Frasier and Niles
Two of our favorite TV brothers, Frasier and Niles, are at their best in this hilarious scene. When Niles goes a little overboard with his medication, his dinner date with Frasier turns into a night to remember.

Tell us:
Read more about our favorite TV dads, and tell us which one is your favorite in the comments below!
More Modern Family:
Know your stuff: The men of Modern Family
Julie Bowen interview
Modern Family tackles sex and the teenage girl
Image Credit: ABC.com
More From SheKnows Explorer