Stars Will #NeverForget
Celebrities are doing their part to remember the victims of Sept. 11 with some words to fans on Twitter.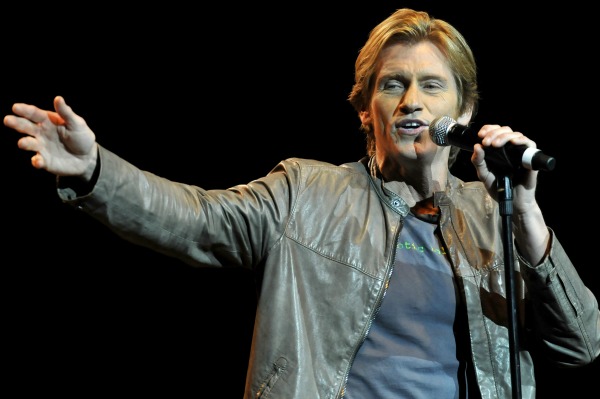 Twitter wasn't around on Sept. 11, 2001, and it's difficult to say how media coverage of the event would have been different if it had been. Today, however, the microblogging platform is lighting up on the 12th anniversary of the attacks with celebrities doing their part to honor and remember those lost.
Do a good deed today in observance of @911day. Make your pledge at http://t.co/eGxBA8XfGD. #911day

— Miley Ray Cyrus (@MileyCyrus) September 11, 2013
We #neverforget but we do move on, rebuild and grow stronger!!! #GodblesstheUSA #911 #sept11 #beforeafter http://t.co/Rg9NUr7dgV

— Melissa Joan Hart (@MelissaJoanHart) September 11, 2013
Living in NYC on this day is a reminder of the terrible tragedy that struck our nation &how strong & resilient we are when faced w adversity

— Bethenny Frankel (@Bethenny) September 11, 2013
Glad to be in NY on 9/11. Remembering all those who lost someone.

— Ben Stiller (@RedHourBen) September 11, 2013
Prayers & love in memory of those who fell & their families..9/11

— Jack Wagner (@JackWagnerhpk) September 11, 2013
Please take a moment of reflection for #september11. #begrateful

— Kelly K. Bensimon™ (@kellybensimon) September 11, 2013
We will never forget #September11

— LIVEKellyandMichael (@KellyandMichael) September 11, 2013
We will never forget !! #americastrong http://t.co/0hoJvX3RQL

— Derek Hough (@derekhough) September 11, 2013
Never forget the 343 brave men of the FDNY and the courage and dedication they showed on 9/11. pic.twitter.com/lk53nPmJ7r

— Denis Leary (@denisleary) September 11, 2013
Three good men who died that dreadful day:

— Denis Leary (@denisleary) September 11, 2013
Lt. Tim Higgins. Squad 252. Had the greatest laugh. pic.twitter.com/XivlbGy5JJ

— Denis Leary (@denisleary) September 11, 2013
Capt. Paddy Brown. Former Marine, proud & highly decorated FDNY member. What a smile. pic.twitter.com/xIxJChNSU8

— Denis Leary (@denisleary) September 11, 2013
Ace Bailey. Hockey star. Friend of the Leary Firefighters Foundation. United Flight 175. pic.twitter.com/0rj2PQJNKA

— Denis Leary (@denisleary) September 11, 2013
Always remember! http://t.co/3qBzEjjKJx

— Julianne Hough (@juliannehough) September 11, 2013
Remembering all who lost their lives 12 years ago today. #GodBlessAmerica http://t.co/KfBWvuDowX

— Kris Jenner (@KrisJenner) September 11, 2013
To our heroes... http://t.co/83i1bwPcIF

— KhloéKardashianOdom (@KhloeKardashian) September 11, 2013
Beautiful view of the freedom tower this morning #neverforget #dayinthelife http://t.co/dA2mWk6JZ9

— Rachel Zoe (@RachelZoe) September 11, 2013
Let's remember those lost on this day. Let's remember those lost fighting against what happened on this day. #Neverforget God bless America.

— Jordan Knight (@jordanknight) September 11, 2013
Praying for those whose lives were taken too soon and their families who continue to hurt. #neverforget #september11

— Giuliana Rancic (@GiulianaRancic) September 11, 2013
Remembering all who lost their lives 12 years ago on this day and all of our troops .. United We Stand http://t.co/vOzNOP4BBF

— Brody Jenner (@BrodyJenner) September 11, 2013
#NeverForget #NeverForget #NeverForget #NeverForget #NeverForget #NeverForget

— Andy Cohen (@Andy) September 11, 2013
Let's all take a moment today to remember 9/11…http://t.co/cA84chVqRn Never forget.

— Lauren Conrad (@LaurenConrad) September 11, 2013
#NineEleven We will never forget.

— Ricky Martin (@ricky_martin) September 11, 2013
12 years ago today Sept 11th. We Will Never Forget. Still remember the smoke in the sky. Saying lots of prayers for families who lost lives.

— Lady Gaga (@ladygaga) September 11, 2013
Our Heroes! United We Stand as we Remember 9-11 http://t.co/RvpBU4mrcr

— Diddy (@iamdiddy) September 11, 2013
I will never forget this day. As a journalist, a New Yorker, a mother. For those we lost & those who experienced unimaginable loss #Honor911

— Katie Couric (@katiecouric) September 11, 2013
If there is one thing we can take away from 9/11 it is the unity and resilience we showed in the aftermath. #NeverForget

— Nicky Hilton (@NickyHilton) September 11, 2013
Thinking about the family's who lost loved ones and those who were affected by 9/11 #lmemorial #love http://t.co/WO78YRTGJj

— Doutzen Kroes (@Doutzen) September 11, 2013
Never forget those whose lives perished on 9/11. God bless our country.

— Sheryl Crow (@SherylCrow) September 11, 2013
half-mast 12 years later #nyc #grateful #9/11 http://t.co/16C1AAmdBx

— Jennie Garth (@jenniegarth) September 11, 2013
No Hate today. Lets all remember the lives lost on 9/11. You will NEVER be forgotten. RIP #heros

— NiC0LE P0LiZZi (@snooki) September 11, 2013
Image courtesy Jeff Daly/WENN.com
Read more 9/11 coverage
NBC kinda sorry for 9/11 coverage mess
Lady Gaga talks about her 9/11 experience
Bones recap: A fallen hero