Griffith Is A #Proudmama
After learning the big news about who would be playing the main characters in Fifty Shades of Grey, celebs took to Twitter to share their excitement, their confusion and their pride.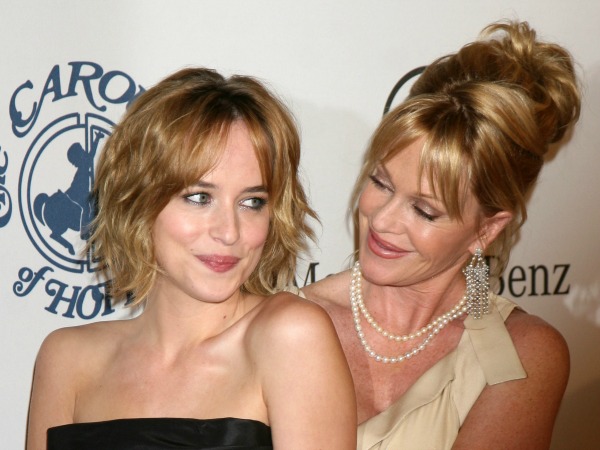 It has been a long wait, but we finally know who will play Anastasia Steele and Dorian Grey in the film adaptation of Fifty Shades of Grey. E.L. James tweeted this week that Dakota Johnson and Charlie Hunnam had snagged two of the most coveted roles of the year.
For producer Michael DeLuca, the choice was an easy one. He responded to a fan on Twitter who thanked him for the casting, and shared why the two actors were the ones chosen out of the thousands that had probably hoped to be the main characters in the adult-themed book.
@officeladyprobz @E_L_James @DanaBrunetti you're so welcome! Auditions were stunning, incredible chemistry!

— Michael De Luca (@MichaelDe_Luca) September 2, 2013
At 23-years-old, Johnson has been in some big films like The Social Network and The Five-Year Engagement, but never in a role as big as this one. The actress is Hollywood royalty, the daughter of Melanie Griffith and Don Johnson, and her proud mom tweeted about the news Monday.
My beautiful child Dakota has been chosen to play Anna Steele in 50 Shades!!! Look out world! Here she comes!!! #proudmama

— Melanie Griffith (@MelanieGriffith) September 2, 2013
Other celebrities also took to Twitter, some with sincerity and some with humor. Rainn Wilson jokingly tweeted about his disappointment over losing the role.
Congrats to Charlie Hunnam on the 50 Shades of Grey role. It was a tough fight but the actor with the longer hair won. #bummed

— RainnWilson (@rainnwilson) September 2, 2013
Ireland Baldwin, another daughter of Hollywood parents who has broken into the entertainment industry, tweeted her excitement for the casting.
50 Shades of down for Charlie Hunnam

— ireland (@IrelandBBaldwin) September 2, 2013
Author, and friend of E.L. James, Bret Easton Ellis tweeted that Hunnam wasn't James' first choice for the role, causing a bit of controversy.
E.L. James and I were at Rob Pattinson's house when she admitted that Rob was first choice for Christian. Ian Somerhalder never in running.

— Bret Easton Ellis (@BretEastonEllis) September 2, 2013
Fifty Shades of Grey author tops Forbes' latest list >>
Actress Garcelle Beauvais tweeted what many women may be thinking. It seemed like it may be an odd choice, but the more you think about it (or stare at photos of Hunnam), the more you realize Hunnam will be the best choice for Fifty Shades of Grey.
I didn't get it, but this pic makes it more believable @EricaDiamond: Charlie Hunnam. Christian Grey. #FiftyShades pic.twitter.com/tDGPHayo4Y

— garcelleb (@GarcelleB) September 2, 2013
Yep, we're officially sold.
The news took everyone by surprise, but with 70 million copies of the book sold, there will likely be plenty of eyes watching the chemistry between the two.
Fifty Shades of Grey will be out Aug. 1, 2014.
Photo credit: Nikki Nelson/ WENN