The Protective Father Speaks Up
Billy Ray Cyrus knows all the ups and downs of the entertainment industry, so doesn't seem too concerned with the performance his daughter Miley gave Sunday night at the MTV Video Music Awards.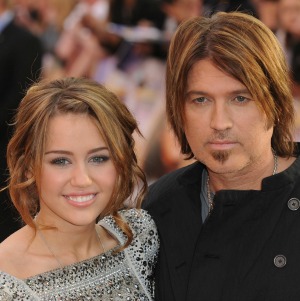 Billy Ray Cyrus was one of the biggest country stars in his time, so who would have thought his daughter would one day take his spotlight?
The 52-year-old dad to Miley Cyrus definitely gave her his talent and stage presence, but he probably didn't think she would put on a performance like the one she gave Sunday night at the MTV Video Music Awards.
Billy Ray finally opened up about the performance, and gave a perfect dad response.
"Of course I'll always be here for Miley. Can't wait to see her when she gets home," Billy Ray told Entertainment Tonight. "She's still my little girl and I'm still her dad regardless how this circus we call show business plays out. I love her unconditionally and that will never change."
Miley doesn't seem worried about what people are saying, and has only tweeted the positive reviews of her performance.
Smilers! My VMA performance had 306.000 tweets per minute. That's more than the blackout or Superbowl! #fact.

— Miley Ray Cyrus (@MileyCyrus) August 26, 2013
The performance has been the talk of the town since Sunday, with many celebs commenting on Miley's taste and style. Kelly Clarkson even got into a catfight with one of the Miley's friends after calling her a name on Twitter.
Just saw a couple performances from the VMA's last night. 2 words.... #pitchystrippers

— Kelly Clarkson (@kelly_clarkson) August 26, 2013
The Parents Television Council released a statement slamming MTV for allowing it to happen.
"MTV continues to sexually exploit young women by promoting acts that incorporate 'twerking' in a nude-colored bikini," they said. "How is this image of former child star Miley Cyrus appropriate for 14-year-olds?"
Surprisingly, Miley's VMA performance was not the raunchiest of the show's history.
Billy Ray tweeted less than a day after the performance, but later said he hadn't meant it to relate to the Video Music Awards.
Thanking God for so many blessings tonight. Continue to pray for world peace. More love ...less hate.

— Billy Ray Cyrus (@billyraycyrus) August 26, 2013
Miley is only 20 years old, and seems to be strong enough to move on and learn from this experience. It helps that she has the full support of her family.
Photo credit: WENN.com