The Short-But-Sweet *NSYNC Reunion
It's the year 2000 all over again: Justin Timberlake and *NSYNC took the stage at the MTV Video Music Awards and brought the house down!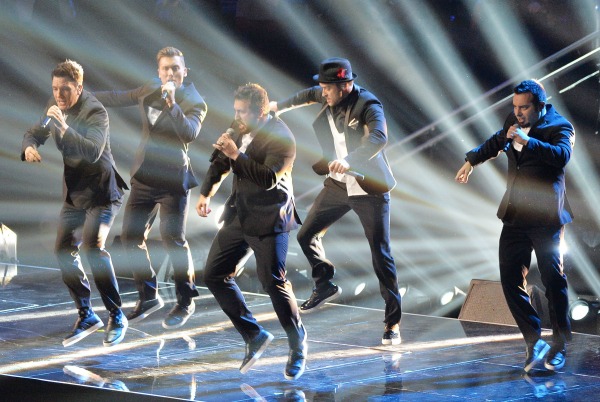 It was real, and it was spectacular! The rumored *NSYNC reunion actually happened, capping off a hit-packed performance by Justin Timberlake that brought the crowd to its feet.
Video clips from some of Timberlake's biggest hits showed on the big screen as the star made his way through the Barclay Center before he broke into "Like I Love You" and "My Love," quickly followed by "Cry Me a River," "Señorita" and "Rock Your Body."
Watch Justin Timberlake and the *NSYNC reunion at the MTV VMAs:
Suddenly, there they were — all five members of *NSYNC onstage for the first time in over 10 years, singing "Bye Bye Bye" complete with the famous choreography. But just as quickly as Beyoncé dismissed her Destiny's Child sisters from the Super Bowl halftime stage, Lance Bass, Joey Fatone, Chris Kirkpatrick and JC Chasez were dismissed as well.
The brief moment left fans tearin' up their hearts for more, and some voiced their disappointment on Twitter.
Nsync performing at the VMA could be recorded via Vine. It was so short!

— Migo Muyot (@migomuyot) August 26, 2013
That NSYNC performance was short enough to fit the entire thing in an Instagram video SALTY

— Kathryn McGuire (@katemcgui) August 26, 2013
Guys, the NSYNC reunion went short because Chris Kirkpatrick's manager at Arby's only gives him 15-minute breaks. :( #fb

— Joe Morris (@thejoemorris) August 26, 2013
When presented with the Video Vanguard Award, Timberlake made sure to thank his brothers-in-arms by acknowledging that half of the VMAs he's won in his career, he won with them. Later, the band even tweeted a group photo.
What a night! Thanks for all the support everyone. We love you so! #NSYNC pic.twitter.com/IqTVccjti2

— *NSYNC (@NSYNC) August 26, 2013
Tell us: Did you love the *NSYNC reunion, or did you LOVE the *NSYNC reunion?
Images courtesy Getty/MTV
Read more MTV Video Music Awards
Our favorite tweets from the 2013 MTV VMAs
2013 MTV Video Music Awards: Live winners list
2013 MTV VMAs: Did these celebs get it right?