Where Did Everyone Go?
Brandy Norwood flew all the way to South Africa to perform for a stadium filled with 90,000 people. However, there were only 40 people in attendance. What happened?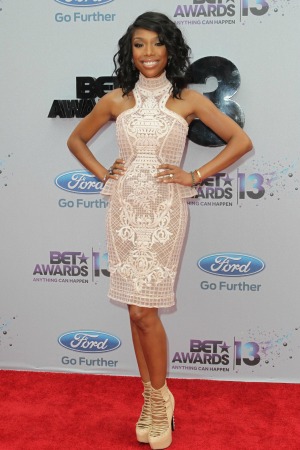 Someone in South Africa is really good at keeping secrets, except they were too good at their job. Over the weekend on the Nelson Mandela Sport & Culture Day, singer Brandy Norwood was slated to be the surprise final act of a day-long celebration. However, no one informed the fans and they all left before her set.
The FNB stadium in Soweto, South Africa, is a large venue holding 90,000 guests. It was a sold-out event throughout the entire day. The attendees left when the lights went on at the stadium since they assumed that the day's activities were over.
By the time Brandy stepped onstage, there were only 40 people in attendance. One of the South African musicians, Kabomo, who performed earlier in the day, tweeted about Brandy's misfortune.
@SizweDhlomo it was late. People didn't know there was a concert after the games. No one knew Brandy was around. Maybe a 40 people audience

— Kabomo (@Kabomo) August 17, 2013
The musician also seemed to understand Brandy's plight. She had to perform for Fikile Mbacks who is South Africa's minster of sport. He was one of the few who had the inside information about her performance. Otherwise, she performed to thousands of empty seats.
Depressing RT @SizweDhlomo: Can you imagine how depressing it must be to be a person like Brandy & now you perform to empty stadiums. Kabomo

— Kabomo (@Kabomo) August 17, 2013
Brandy stuck it out for two songs before she left the stage. She didn't comment on the incident on social media nor did she make any public statement. The Grammy winner can't be too bitter because she is returning to the country for a concert on Sept. 24, according to the Guardian.
We will say it though: That's a long way to fly for a 10-minute performance.
Photo credit: FayesVision/WENN.com