Bethenny Frankel


On the set of Bethenny
SheKnows Girl Crush Bethenny Frankel brings us onstage with her to chat at the first taping of her new talk show, Bethenny, and tells us why she's still open to finding love (just not online)!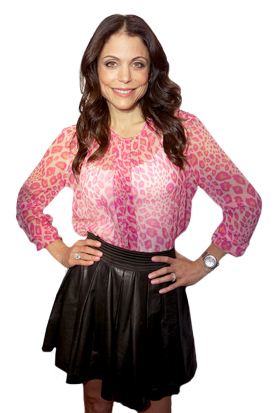 With her empire continuing to rise and a new daytime talk show, Bethenny Frankel has come a long way from squabbling with bored, rich Housewives in the Hamptons.
Three years post-RHONY, the inspiring businesswoman has three best-selling books, a fictional novel, an audiobook, an exercise DVD and the entire Skinnygirl product line under her belt. Though she sold the Skinnygirl cocktail company
in 2011, Bethenny's name is still synonymous with
its success.
Despite dealing with a difficult divorce this past year, the mother of 3-year-old Bryn says she's doing great and is ready to begin the next chapter of her life. Though she says she still believes in love, the 42-year-old says dating isn't in the cards anytime soon. What is she looking forward to?
Find out as we join Bethenny in front of a live studio audience on the set of her new talk show!
---

---
Girl Crush Quickie:
Girl Crush?
Rihanna.
Celebrity (guy) crush?
Ryan Gosling.
Favorite on-the-go workout?
Skinnygirl workout.
Must-have beauty product:
Serum.
Tip for dealing with divas in the workplace?
I don't deal with divas in the workplace.
De-stressing tip?
Sleep, yoga or massage.
Life motto/mantra?
Go big or go home.