All this talk about the swoon-worthy *NSYNC reuniting and performing at the VMAs this weekend has prompted quite the drama on my Facebook wall.
So much drama that it's just short of inducing violent attacks featuring hair-pulling and malicious biting. But why, you ask? Because I asked who was the better boy band between *NSYNC and the Backstreet Boys!
The Backstreet Boys kicked off yet another tour this year, and debuted the sizzling new album In a World Like This in July. And let's face it, boy bands everywhere (you hear me, Westlife and 98 Degrees?) could reunite, but none could incite the sort of fanatical bickering that this one has. So who's better? The boys of *NSYNC or BSB?
While you think about how you're ready to attack the poll below and cast your vote, read on and allow us to play devil's advocate.
Backstreet Boys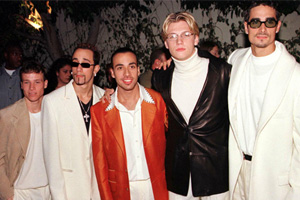 Nick, Brian, A.J., Kevin, and Howie have reunited and soared right to the top of the charts. Their purported figures are somewhere around 130 million in album copies sold worldwide, giving them a strong lead as the best-selling boy band of all time. Internationally known and loved, they're famously known for strong vocals (known for singing a cappella) and heartfelt performances. They've ventured into R&B and hip-hop, progressed back into pop throughout the years, and fans have remained loyal throughout. Hits like "I Want It That Way" and "Quit Playing Games with My Heart" have been staple songs for their careers. They're set to debut a documentary film next year, which marks the 21st year they've been together (not factoring in the year hiatus). They've produced and compiled work even when they weren't in the spotlight, and pursued solo ventures, but time has brought them back together and notably stronger than ever with the return of Kevin after his controversial departure.
*NSYNC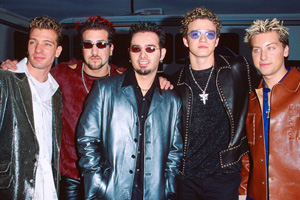 Justin, Lance, J.C., Chris and Joey were the fun-loving competition to BSB once they hopped onto the scene in 1995. Also hailing from Orlando, this group of musicians warmed the hearts of many for several years until 2002 when they indicated they would go on a hiatus, and rumors of their return have only developed now, in the wake of the VMAs. This band has dabbled in soulful R&B, pop and dance and has had longevity on the charts with undeniable hits like "Bye, Bye, Bye" and "God Must Have Spent a Little More Time on You." Their harmonies and voices were remarkably distinctive, which also led to their popularity (besides being handsome and possessing some killer moves, of course). Justin went on to exponential success with his personal career, while the others may have not experienced it to a similar degree. Also writing some of their music, the guys had been commended for their thoughtful lyrics, while maintaining a full-time job as teen heartthrobs.
Vote
All right, readers, now you have it. While BSB may have had more commercial success, it's possible *NSYNC has better vocals and dance moves. I'm torn — how about you? Cast a vote below and see what everyone else is thinking!
Vote for who you think will win the VMAs for Video of the Year here! >>
Photo credits: WENN.com