Jim Carrey, Evil Mastermind?
Kick-Ass 2 hits theaters tomorrow, and we're stoked to see what Jim Carrey brings to the surprisingly shocking tale of Kick-Ass and Hit-Girl. As such, we've uncovered 10 facts you'll be astonished to learn about the notoriously funny guy.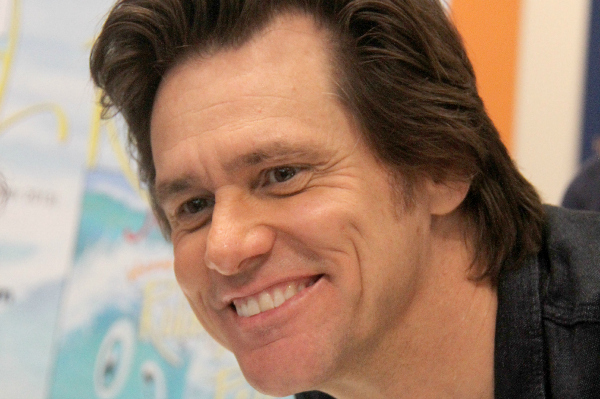 1
He could have been Captain Jack Sparrow
It's nearly impossible to visualize anyone other than Johnny Depp in the Pirates of the Caribbean franchise as Captain Jack Sparrow… but he wasn't director Gore Verbinski's first choice for the off-kilter role. Verbinski actually offered it first to Carrey, who had to turn it down due to scheduling conflicts with Bruce Almighty.
2
He moonlights as a rock star from time to time
He may be best known for acting, but Carrey has another passion that has led to some milestone moments as well — rock music. During a private music show in Vermont in 1999, Phish invited Carrey to sing "Hey You" and "Come Together" with them. He has also performed "Rocket Man" onstage with Elton John in concert and contributed a cover of "I Am the Walrus" for music producer George Martin's Beatles tribute entitled "In My Life."
3
He took Prozac but kind of sides with Tom Cruise on it
Carrey, whose father was manic depressive, has been open about his struggles with depression. However, in an interview with Larry King, he claims that — despite having been on Prozac "for a long time" — he doesn't think the drug is viable for long-term treatment. "You know, at the risk of, like, opening up the whole Tom Cruise Prozac argument, you know, I don't disagree in many ways," he says. "I think Prozac and things like that are very valuable to people for short periods of time. But I believe if you're on them for an extended period of time, you never get to the problem."
4
He was supposed to steal Austin Powers' mojo
Mwuhaha... mwuhahahaha! We feel kind of devious springing this on you while you're still digesting the whole Captain Jack Sparrow bit above, but Carrey was actually cast as Dr. Evil in Austin Powers: International Man of Mystery. Could he have pulled it off? And, more importantly — had he not backed out due to scheduling conflicts — who would they have gotten to play his Mini-Me?
5
He and Tupac Shakur were tight
Well, sort of. While Tupac served time in jail, Carrey wrote him letters of encouragement to amuse the rapper and keep his spirits up. And the gesture didn't go unappreciated. Before his death, Tupac always insisted that Carrey was his favorite actor.
6
He wore tap shoes to bed growing up
Strange, yes, but Carrey cops to wearing tap shoes when he went to sleep at night growing up because his parents often asked him to perform for them in the middle of the night. "I had a sick mom, man. I wanted to make her feel better," he says on 60 Minutes, when asked about his unique brand of physical comedy. "Basically, I think she laid in bed and took a lot of pain pills. And I wanted to make her feel better. And I used to go in there and do impressions of praying mantises, and weird things, and whatever. I'd bounce off the walls and throw myself down the stairs to make her feel better."
7
Like Jewel, he called a van home for a while
When he was growing up, Carrey's Canadian family was so poor after his father lost his job that they all had to go to work as janitors at Titan Wheels Factory in Toronto — where Carrey would pull 8-hour shifts after school. When they finally decided to leave the factory, they were forced to live in a Volkswagen van on a relative's property until they could get back on their feet.
8
We have him to thank for the Fockers
When asked by Larry King if he regrets turning down any roles, Carrey doesn't say Captain Jack Sparrow or even Dr. Evil. Rather, he talks about his role in the development of Meet the Parents. "I actually created the Fockers in a creative meeting," he admits. "Yes. But, it was perfect that Ben Stiller did it. When I saw it, I went, 'That's the way it's supposed to be done.'"
9
He hit a party rockin' nothin' but a tube sock
Carrey has a reputation for being a bit of an exhibitionist, but still — call us old-fashioned — we find it shocking anytime someone shows up nearly naked in public. For the 20th anniversary special of The Comedy Store, the funny guy made his grand entrance as naked as the day he was born… save a tube sock over, um, Mr. Popper's penguin.
10
Kate Winslet scares the hell out of him
When working on Eternal Sunshine of the Spotless Mind, Carrey had nothing but praise for his co-star, Kate Winslet — but he also confessed that she intimidates him. "I get excited when people I work with scare me," he explains in an interview with IGN. "I mean, she's just scary talented. An amazing actress." He goes on to say, "You sometimes don't know what she's doing when you're in the scene with her and then you look at it later and she just knows what's gonna come off."
Image courtesy of Joel Ginsburg/WENN