Hi everyone! I'm so excited for the new season of The Real Housewives of Miami and for you all to see my special day! Watch with me every week and be sure to tweet your questions using #SheKnowsRHOM. In fact, let's get into some of your questions now...
calebnyc: @joannakrupa looks like there is a lot of drama surrounding ur wedding. if u could do over, would u still do it for the show? #SheKnowsRHOM
Joanna Krupa: I have no regrets having the wedding filmed for the show since it was the most amazing day of my life and there was no drama with the wedding from my end.
"what you see is what you get..."
krissybeeean: @joannakrupa what do you do for exercise? #sheknowsRHOM
JK: I take Equinox classes 2–5 times a week, anywhere from 45 minutes to 1 1/2 hours each session. I also jog on the beach or work out with my fitness guru Philip Gray, who I am releasing a fitness DVD series with.
ChristineMiyagi: @joannakrupa are you and lisa going to stay close this season? Seems like lea is becoming your new BFF! #sheknowsRHOM
JK: I adore Lea as she is a very smart woman and I can learn a lot from her, and would love to have my rescue become as successful as her charity. Lisa and I have been close but we had our obstacles during the season. I consider her a close friend and I would hope the feeling is mutual. All friends have their ups and downs.
sarechen: @joannakrupa How does it feel to have reconciled with Adriana? #SheKnowsRHOM
JK: It feels good because now I don't have that stressful feeling in my stomach when I know I have to see her.
jessadd123: @joannakrupa was the jaguar the best gift Romain has ever given to you? #sheknowsRHOM
JK: The best gift Romain ever gave me was his love for me and my family, as the materialistic gifts are not as important to me. I like the nicer things in life but I can live without it.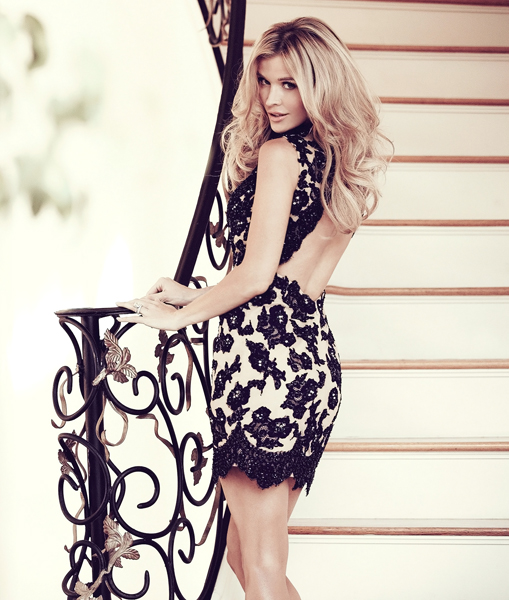 krissybeeean: @joannakrupa what is your secret to always looking so flawless? #sheknowsRHOM
JK: I make it my priority to moisturize my skin to prevent wrinkles with my skin cream, Cellogica, that will be available soon.
haleyd2point: @joannakrupa what's one thing you and Romain look forward to doing as a married couple? #sheknowsRHOM
JK: Having kids eventually, and building our brand together as a couple.
the_SOULdier: Are you happy with how you're portrayed in the new season? whats the biggest misconception about u? @joannakrupa #SheKnowsRHOM
JK: I'm happy with how I am portrayed this season. With me, what you see is what you get, and I've learned a lot from last season. I would never go to such a low level as I did last season at the lingerie party. If you deal with trash, it doesn't mean you have to stoop to their level.
moyrAaa_: @joannakrupa @SheKnows_Ent when's the workout vids coming out?! So excited !!! #favoritehousewife
JK: Hopefully by the end of this year!
richie samsun: @joannakrupa if you could join any other Housewives cast, which would it be and why? #SheKnowsRHOM
JK: I'm bicoastal so definitely Beverly Hills would make sense for me, as it's partially my home.
More
Be sure to tune into Real Housewives of Miami every Monday on Bravo and send your questions for Joanna to #SheKnowsRHOM.

About Joanna
Polish-born and Chicago-raised model Joanna Krupa has graced the cover of over 120 magazines worldwide. Krupa has worked as a model, actress, host, reality star and swimwear designer. In addition to being voted among the "Sexiest Women in the World," she also does philanthropic work for animal rights groups like PETA. In 2012, Krupa joined the much-anticipated second season of Bravo's hit series The Real Housewives of Miami. Now returning for its third season, Joanna and the Miami gang are back for an all-new season, bringing heat, over-the-top weddings and of course, plenty of drama.
Photo credits: Daryl Henderson