When you hear that Lady Gaga is releasing a single the same time as Katy Perry, it's safe to say that no one is going to compare two singles more intensely. Lady Gaga is a queen of the night in her own right, and Katy Perry has had no one with her pin-up prowess challenge her to date.
Both have released killer singles and it's up to you, readers, to judge who rises to the top as the breath of fresh air we've been dying for this summer! Who closes out the summer with the most sizzling megahit? Let's dive right in and see: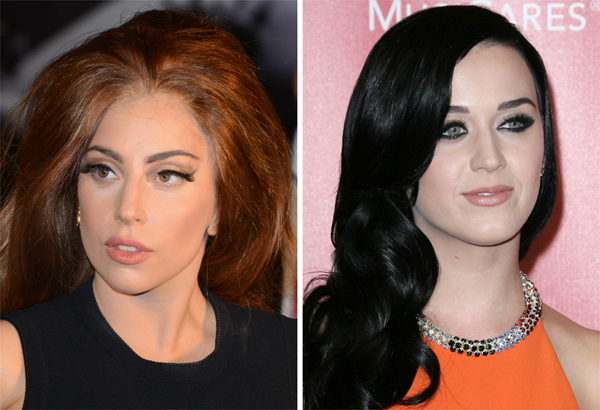 Lady Gaga
As the first single off of ARTPOP, the upcoming album release, "Applause" has promise and has her fans going insane with expectation. People had been trying to leak bits and pieces and so Gaga went ahead and released it for our listening pleasure. Where does the song fall within her long list of hits? While nowhere near her earlier releases, it's still an immediately club-ready hit, but that also could have the likes of Abercrombie & Fitch store music organizers clamoring to add this to their playlist. It's true to her style, but doesn't exercise the youthful voice she once possessed. Perhaps this is a result of Lady Gaga growing up?
Katy Perry
Katy has peeled away the first layer of the mysterious veil surrounding her new album Prism, the golden semitrailer and the ominous promos for the single "Roar." She finally debuts this song, and to be quite frank, it sounded not only cathartic for her, but immensely empowering for the listener. It was so intense that I wanted to hop on my chair and belt the lyrics out for the entire neighborhood to hear. Now this is not a regular hit for Katy, as it has a forward-looking take that tempts listeners into thinking she's really done with the "old Katy." She mentions her accomplishments, the oppression she's faced and how she's not letting anyone hold her back anymore. Even if you don't want to take it that far, she's certainly taking the reins and she's got her eye on the top of the charts. With this release, I think she has a solid shot.
Tell us
What do you think, readers? Who's your pick? Sounds like this is a matter of both artists growing up and releasing headlining tracks to promote their new albums. Air your thoughts here!
Lady Gaga's "Applause"
Katy Perry's "Roar"


Photos courtesy of WENN.com, Adriana M. Barraza/WENN.com