Nearly Everyone Has A Bad Night
In this episode of Switched at Birth, called "The Merrymakers," nearly everyone has a bad night as Toby has his bachelor party and Daphne and Bay throw Nikki a bachelorette party.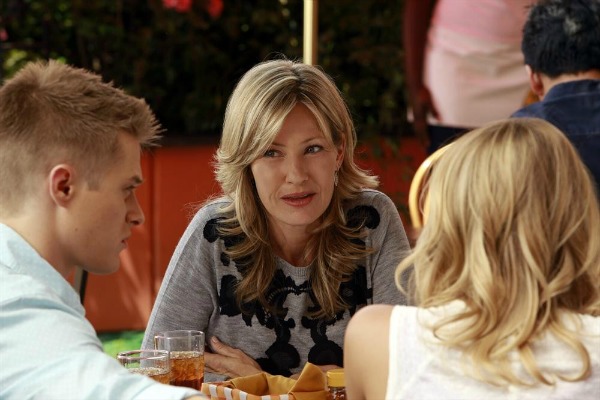 On last week's episode, Daphne (Katie Leclerc) realized that her actions came with very serious consequences. In this episode, it seemed that the more she tried to escape and move on from the past, the more it tracked her down and became even worse. I can't say that I have a ton of sympathy for her since she did make her own bed, but I do have to wonder where the heck Jace (Matt Kane) is in all of this. Is he really going to end up getting off scot-free for everything while Daphne suffers for both of them? That just doesn't seem right.
The episode started out with the family meeting with Nikki's (Cassi Thomson) mom Jennice about the wedding. She wanted her daughter to have a fairy tale wedding, but Nikki said she didn't and of course stormed off. Bay (Vanessa Marano), who had decided to move back home after Angelo (Gilles Marini) got word that he had gotten custody of Abby, reluctantly agreed to help Daphne throw Nikki a bachelorette party. The girls hoped that it would help Nikki get out of her head, but it led to a lot more trouble than anyone could have imagined.
Emmett had to throw Toby's (Lucas Grabeel) bachelor party after Wilke dropped out and that party had its own set of issues. First, Toby had to ask if Emmett (Sean Berdy) would also be his best man as he didn't want Wilke there after the guy said he didn't support Toby's marriage. That of course left Emmett in a tough spot as he too had to admit that he wasn't exactly supportive either. I had to agree with Emmett, though I can't remember the last time I saw Toby truly happy since he got engaged. But just as Toby was dealing with that information, he got a phone call from Simone and found out that he (and Emmett) both needed to get tested for chlamydia. Talk about the worst bachelor party ever.
Meanwhile, back at the bachelorette party, Daphne decided that she needed to open up to someone about what was going on with Coto and told Nikki. Normally, telling Nikki probably wouldn't have been a bad idea, but considering that Nikki was completely plastered when she got the news, it was no wonder that she ended up leaving that message for Coto. I knew that those two going to his office to erase it wouldn't resolve the issue and I'm curious what's going to happen now that Coto has seen them on the security tape.
In the end, Toby told Nikki his awkward news and she took it like a champ. Turned out she realized she was basically mad at her dad for not being around to walk her down the aisle and had been taking it out on everyone else. John lied to Bay and said that he tried to get Ty out of his deployment, when really he was protecting Ty from having to disappoint Bay. Regina (Constance Marie) and Angelo shared some tender moments, but decided that they couldn't go back in time to be a couple again. Jennice and Kathryn decided that Nikki and Toby were too young to get married and, in the sweetest moment of the entire episode, Travis (Ryan Lane) and Mary Beth (B.K. Cannon) finally got to have their kiss.
I can't believe next week is already the season finale and I'm curious to see where all of these issues end up as we look forward to the next season.
My favorite bits:
"She's an infant, not a velociraptor."
Poor John's groan when he realized how serious Bay and Ty were.
Regina getting the baby to smile. That was too cute for words.
"Dude, just man-up and kiss her."
Emmett suggesting that Travis practice kissing on the blow-up doll.
Bay referring to the baby as a "screaming, crying poop-maker."
"Please don't have a penis anything."
"I know where the vacuum is!"
"I never would have guessed."
Nikki dancing on the table. Who knew she had it in her?
Thinking that getting the "you gotta get tested for chlamydia" phone call on the way to your bachelor party sucks on so many levels.
"I'm pretty sure you can judge for drug dealing."
Toby asking Emmett if he just wanted to copy down his list of sexual partners. Ouch.
"Even money can't rush bacteria."
Bay pointing out to Travis that kissing Mary Beth would make the moment special.
Regina and Angelo deciding to forget their promise for the moment.
Emmett watching as Toby told Nikki his news, and she took it like a champ.
Mary Beth's reaction when Travis found her brother's dog tags. Best. Kiss. Ever.
John taking the fall and telling Bay that he couldn't get Ty out of his tour.
Want to get updates about Switched at Birth sent directly to your email inbox? Sign up for our SheKnows newsletter! >>
What do you think will happen in next week's finale?
Image courtesy of ABC Family