Proof that models eat!
They don't call it comfort food for nothing. There's something so soothing about chowing down on hearty fare during the brisk fall months. Just ask Kim Kardashian and these other celebs who aren't afraid to chow down!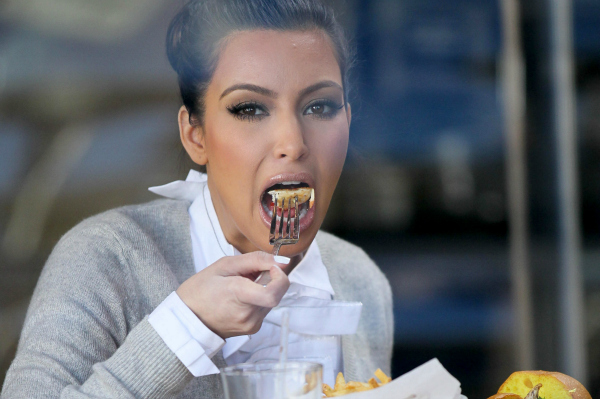 Now, here's something we like to see: A celebrity eating bread! It's nice to know that even before pregnancy cravings kicked in, Kim Kardashian fancied carbs like we do, which she enjoyed here during lunch at Breadbar in West Hollywood while filming Keeping Up with the Kardashians.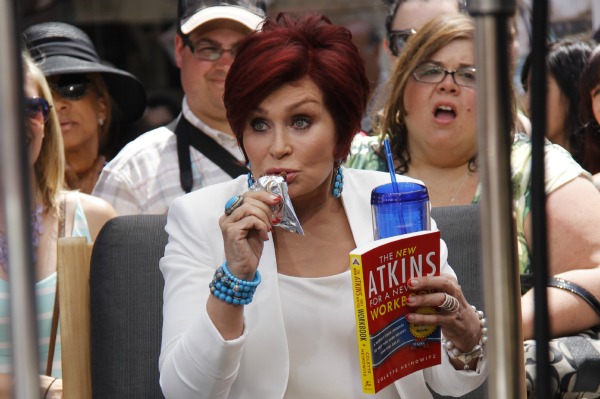 Sharon Osbourne clearly practices what she preaches. Shortly before appearing on Extra! at the Grove to talk about the Atkins Diet, Sharon steals a second to chow down on an Atkins meal replacement bar.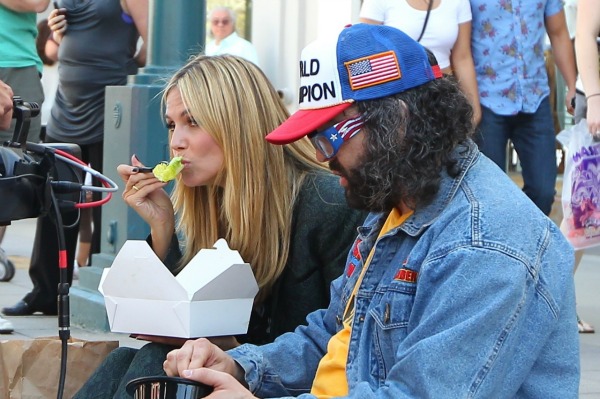 Once again, America's Got Talent judge Heidi Klum shows the world just how down-to-earth she is. Not only does the gorgeous German dig into lunch alongside Judah Friedlander while filming in Santa Monica, but she does so barefoot (not pictured).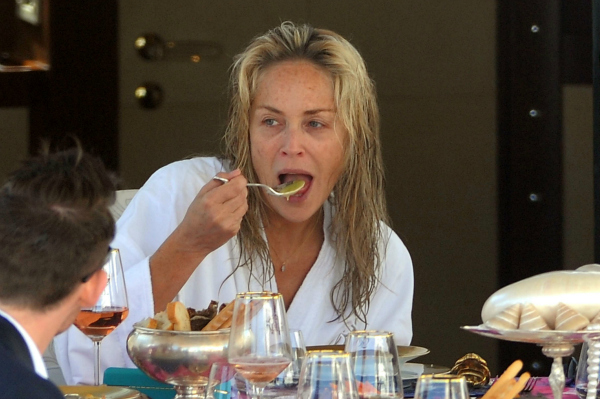 Calories don't count on vacation, right? If the decadent lunch Sharon Stone indulged in aboard Roberto Cavalli's yacht is any indication, the fresh-faced star considers downtime to be guilt-free when it comes to food.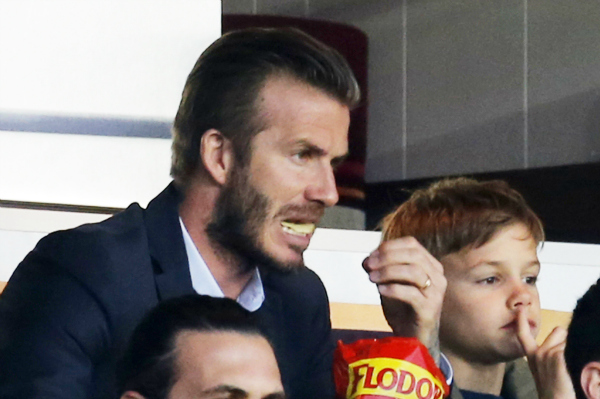 While taking in a football match with his family at Parc des Princes, David Beckham snacks on the French brand Flodor potato chips. Super-hot he may be, but he's still a dude, and dudes love salty snacks!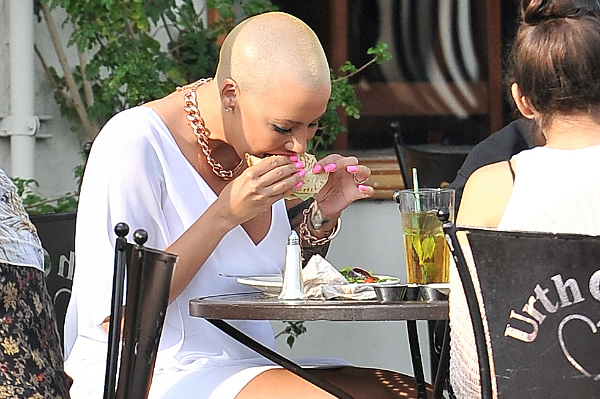 Hey now, it's exhausting being a new mom! We don't blame Wiz Khalifa's wifey for chowing down during lunch with friends at Urth Café. We're sure baby boy Sebastian keeps Amber so busy she barely has time to scarf down a bite.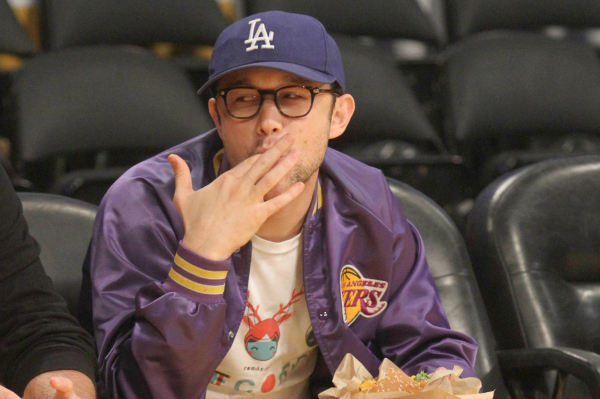 When cheering on your favorite basketball team, you need to replenish your energy reserves from time to time. Joseph Gordon-Levitt noshes on concession-stand snacks while he watches the LA Lakers playoff game at the Staples Center.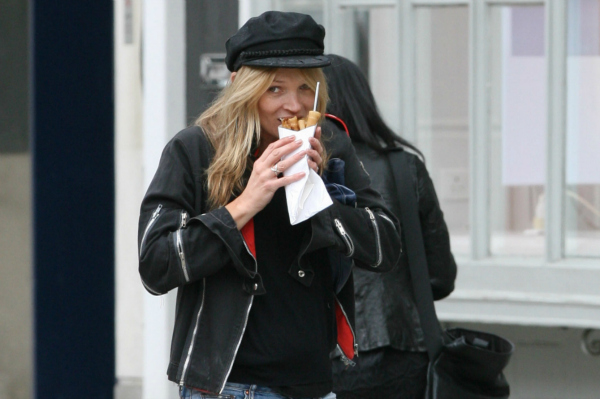 Those must be some good crepes! The same Hampstead food stall that served up a crepe to supermodel Kate Moss was recently visited by Hollywood couple Ashton Kutcher and Mila Kunis, who —like Kate — munched while they moseyed.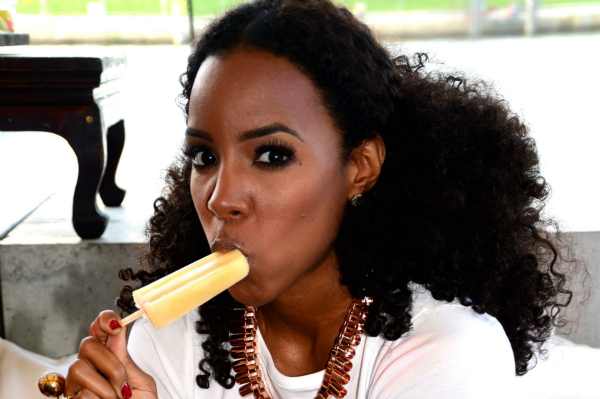 What's better on a hot day than a yummy ice cream bar? Kelly Rowland kept her cool at the Bacardi Record Release Party by indulging in a frosty treat. Mmm, looks like it might be a Creamsicle… our fave!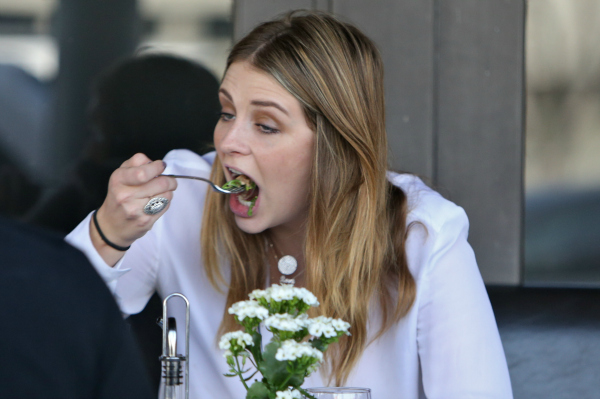 And they say women in Hollywood don't eat! Judging from this gallery, actresses and supermodels have no qualms about stuffing their faces. Another case in point? Mischa Barton enjoying a late lunch with friends in Beverly Hills.
Images, top to bottom, courtesy of: STS/WENN, WENN, RevolutionPix/WENN, WENN, WENN, WENN, WENN, WENN, WENN, Michael Wright/WENN