Charisma Carpenter

Charisma's crime-fighting past
SheKnows Girl Crush Charisma Carpenter shares her own story of fighting crime and tells us about her new show on Investigation Discovery, Surviving Evil.
You may remember the gorgeous Charisma Carpenter from her long run as Cordelia Chase on Buffy the Vampire Slayer and later playing a heroine on the show's spinoff, Angel. What you might not know is that Carpenter is actually a real-life hero who helped to put a very dangerous criminal in jail when she was only 22-years-old.
As the host of Investigation Discovery's new series, Surviving Evil, the 43-year-old actress shares the stories of other women who have fought back against their attackers and lived to tell about it. For her inspirational outlook on overcoming these traumatic experiences, and her thoughtful advice on dating and single motherhood, Carpenter is this month's SheKnows Girl Crush.
Girl crush quickie:
SheKnows: Who's your Girl Crush?
Charisma Carpenter: Cate Blanchett. She's incredibly gifted and has a stellar career. I also like Eva Longoria and Sofia Vergara.
SK: Who's your male celebrity crush?
CC: James Franco. He's so funny and seems like he would be fun to goof around with.
SK: What's your favorite workout?
CC: Circuit training. I work out with my trainer, Marc Monroe, and love trying anything he picks. It's never the same.
SK: Do you have a diet secret?
CC: Eat as much protein as possible to ward off cravings.
SK: Sneakers or Louboutins?
CC: Flip-flops.
SK: What's your guilty pleasure?
CC: Chocolate and salt and pepper potato chips.
SK: Do you have a hidden talent?
CC: Dog-Groomer to my cockapoo Valentine.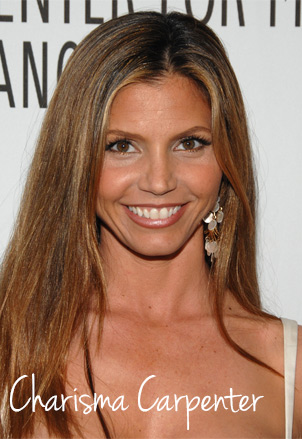 SK: Any secret nicknames?
CC: Crow. In high school, I had a crush on a guy with a unibrow and my brother said he looked like a Cro-Magnon. What can I say, I like guys with unibrows.
SK: What's your life motto?
CC: "To thine own self be true." I have a tattoo of it on my side written in Old English.
Fashion Credit: On Whitney: Dress by Liberty Sage