Anybody know who Cara Delevingne is? I mean besides being drop-dead gorgeous, she's the scandalous Victoria's Secret model Justin Bieber took a picture with backstage during the most recent VS Fashion Show.
Why is she scandalous? Because she was rumored to be the cause of a (as in one of them) breakup between Bieber and Selena Gomez. Now, not that I care all that much, but I grudgingly read an annoying snippet somewhere about how Cara was stirring the pot again — this time between divas Rita Ora and Rihanna.
How? Rumor has it she can only be besties with one of them (yeah, believe it or not, we're talking about grown women here).
Anyway, she had to choose, and I am not sure whom she chose or whether that is even remotely true. Instead, let us use this nonsense tidbit of drama to stack these two artists up against each other and see who wins, shall we? I know I can't be the only one who sees them as twins. Granted, Rihanna has been on the scene much longer and consequently has many, many more hits under her belt (though she rarely wears one, or even pants for that matter). But enough with the small talk, let's dive right in!
Rita Ora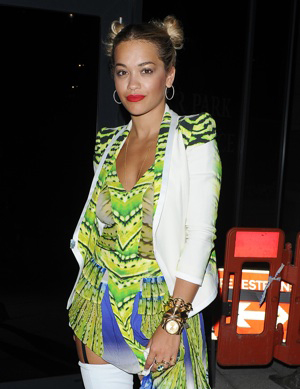 While you may be quick to dismiss this blond, bubbly bombshell after reading a list of Rihanna's accolades, don't overlook her. She's only been on the scene officially as of last year, which is when she debuted her first album. She's been on tour with musical heavyweights Coldplay, and she's worked with Snoop Lion and Craig David.
The bubbly personality of this fashion icon has not only shined on the music scene but has also been featured on the big screen. She starred in Fast & Furious 6, and though her role wasn't at all significant, it looked promising for this budding star. She's made cameos in other prominent musicians' music videos, and these are the very same musicians Rihanna has also worked with — Jay Z and Drake.
Rita has also had her share of chaos in her love life, as she was linked to volatile Robert Kardashian — he took to social media to vent the relationship's dirty laundry. Also romantically linked to Bruno Mars and now Calvin Harris, she's made several connections (both work and pleasure) that may come in handy in the near future.
At 22, she has room to grow — and plenty of time to do it. Hailing from Kosovo but brought up in London, this Brit star also has found her way overseas and into fans' hearts everywhere.
Rihanna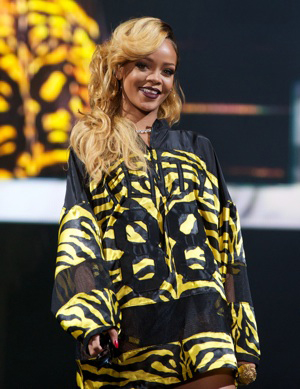 Robyn Rihanna Fenty is not the pristine Barbadian doll she once was when she emerged onto the music scene with "Pon De Replay." Perhaps we are better off now with this evolved artist who says what she wants and does what she wants — with whomever she wants.
Although her bad-girl reputation may not be grounds to consider her a role model, her accomplishments certainly are. At 25, she's already dabbled in fashion, started a foundation for terminally ill children, developed a fragrance line and starred in movies — and, by the way, had time for an international music career. Rihanna can be considered a phenomenon: No wonder Forbes placed her at No. 4 on the list of Most Powerful Celebrities in 2012 and Time placed her on its list of 100 Most Influential People in the World. She's won Grammys, American Music Awards, MTV Awards and others, and she's collaborated with famous rappers like Jay Z, T.I., Eminem and Drake and other notable artists like Calvin Harris, Ne-Yo and Maroon 5.
She is rarely absent from social media and is featured regularly because of her tumultuous love affairs with ex Chris Brown. She even parlayed that into success by collaborating with him relatively recently. She's already released seven albums and is showing no signs of slowing down.
When it comes to influences, she has mentioned Madonna and Bob Marley. She's most certainly a rebel and a force to be reckoned with.
Tell us
So what do you think readers? Which queen reigns? This may be more a matter of what you already know (Rihanna) versus what could be (Rita Ora). Their similarities are remarkable, and their talents are undeniable. So go ahead and make your choice!
Photo credit: Craig Harris/WENN.com