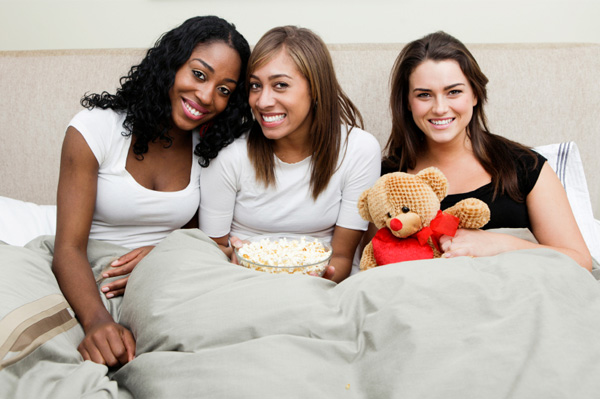 A star-studded
slumber party
Bethenny Frankel may be a busy mom with a booming career, but the talk-show host always makes time to hang with her friends! From the drinks she'd serve to the movies she'd play, here's how to host an authentic girls' night — Bethenny style.
Watch Silver Linings Playbook
No girls' night in is complete without a great movie, right? Back in March, Bethenny openly professed her love for a popular 2012 film on Twitter. Yep, you guessed it:
"Silver Linings Playbook was so awesome. I am always so behind on movies," she tweeted.
Full of romance, drama and a whole lot of laughs, it's the perfect flick to watch with your girls. Trust us, you'll definitely have a lot to gossip about afterward!
Play truth or dare
Believe it or not, it's one of Bethenny's favorite games (yes, seriously!). On her new talk show Bethenny, which is set to premiere Sept. 9, she'll be truth-or-daring a bunch of her guests. For a girls' night in, we suggest you think of some fun dares and squirmy questions before your guests get there. Then jot them down on little pieces of paper, fold them up and stick them in two hats. Have your friends draw from the appropriate hat when their turn comes.
Serve up some Skinnygirl Cocktails

Whether you're a wine connoisseur or a vodka chick — or you prefer your alcohol ready to serve — Bethenny's Skinnygirl Cocktails has a low-cal option for every party. Sit back, relax and enjoy refreshing cucumber vodka cocktails with your girls. Simply pour the vodka over ice, add some soda water and top off your mixed drinks with a cucumber vodka wheel. Feeling lazy or pressed for time? Pick up some Skinnygirl wine or mojitos, and you're ready to roll.
Paint your nails in Bethenny's fave colors

Pampering is a must at any girls' night in, so go ahead and treat yourself and your besties to mini manicures! Bethenny recently posted a pic on her website sporting a gorgeous gray, Porcini Mushroom nail color. She's also admitted to adoring red.
"Red is my lucky color and a power color," she told Traditional Home magazine in a 2010 interview.
Talk it out
Just as Bethenny turns to her closest friends for advice, a girls' night in is the ideal time to vent about your boy problems and see what others have to say. To get the conversation started, why not play a harmless game of "Would you ever?" Begin with a relationship question Bethenny's already asked three women: "Would you continue to date a man who had been with another man, even just once?" You'll laugh and get to know your girls even better.
More Bethenny Frankel news
Gossip girl: Reasons to watch Bethenny Frankel's talk show
15 Bethenny-isms: Learn 'em, love 'em
Bethenny Frankel's inspirational leaders in career and at home