(page 2 of 2)
The Video Music Awards
The eating starts as the music stops
MTV has become a hub of all things pop culture: movies, reality TV, fashion and politics. But the Video Music Awards remain their most popular, showy and fun broadcast all year. In 2013, celebrities will crash Brooklyn, New York, to see who wins best singer, best performance and, of course, the best video of the year. After that, everyone goes out and parties!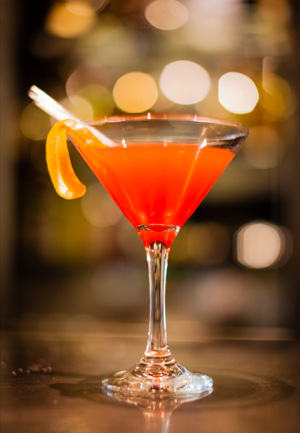 Can't make the VMAs? You can make the VMAs at home!
Neon orange martini recipe
While not an official cocktail at any of the soirees that we know of, this little beauty was pictured alongside a number of music's elite.
Yields 1 martini
Ingredients:
1 ounce gin
1/2 ounce sweet vermouth
1 ounce Campari
1 splash lemon-lime soda
Sour mix to taste
Directions:
Shake together the gin, vermouth, and campari.
Pour into a martini glass and add the soda.
Slowly pour in the sour mix until the martini has a bright orange color.
SunDrop citrus cocktail recipe
A Bacardi classic from In Touch's Idols & Icons bash.
Yields 1 cocktail
Ingredients:
1 ounce Bacardi limon or 151
7 ounces SunDrop soda
Directions:
Pour the Bacardi into the glass and then pour in the soda.
Serve.
Mini cheeseburger recipe
What else do you feed A-listers?
Yields 8 sliders
Ingredients:
1/2 pound ground brisket
1/2 pound 80/20 ground beef
Salt and pepper
4 tablespoons butter
16 ounces Gruyere cheese
8 tablespoons chipotle mayonnaise
8 slider buns
Directions:
About 20 minutes before cooking, set the beef out to take off the chill and preheat your oven to 350 degrees F.
Mix the two meats together and form eight identical patties.
Sprinkle each heavily with salt and pepper on both sides of the patty.
In a skillet over medium-high heat, melt the butter.
Saute the burgers on one side and flip.
Add the cheese to the burger and cook another minute.
Put the entire skillet in the oven and let the burgers cook for 6 minutes or until all pink is gone from the middle of the burger.
While the burgers are cooking, spread one ounce of mayo on each bun.
When the burgers are finished, put a patty on each bun and serve.
Still want to party like a rock star?
Grammy's cocktail party menu
Grammy cocktail party menu
Top 10 SheKnows cocktails of 2012