What Will The Future King Be Named?
The royal baby has been born and the world is celebrating the birth of a son to Prince William and Kate Middleton — but what's the kid's name? No one knows, but Twitter has some suggestions.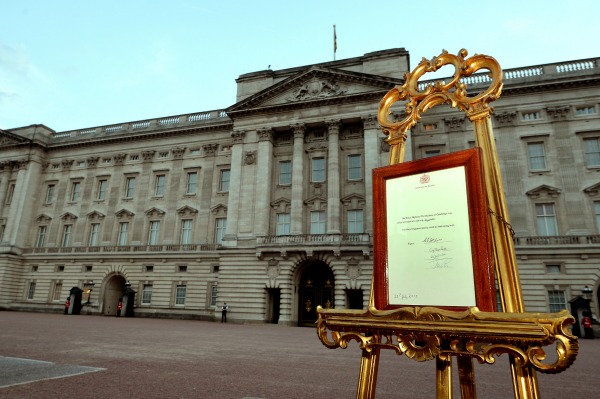 He's here! A son has been born to Prince William and the former Kate Middleton! The royal baby has yet to be named as far as the public has been told (although he already has his own title), but Twitter users certainly have some interesting suggestions for the moniker of the future heir to the throne.
"Should name him Richard, after Richard III. He was found in a carpark and this one was probably conceived in one." - Grandfather #RoyalBaby

— Joshua Keeling (@PettyVacant) July 22, 2013
They should call it 'South' so his name is 'South Wales'! Haha #RoyalBaby

— Gary Humble (@garyhumble1995) July 22, 2013
Will & Kate: Now that J.K. Rowling's pseudonym is out, I think Robert Galbraith is up for grabs if you need a name. #royalbaby

— Julia Hays (@JuliaEveHays) July 22, 2013
If they name the royal baby Dominic then eventually when he's older he will be KingDom. Haha.

— FluorescentFIFA (@FluorescentFIFA) July 22, 2013
The royal baby doesn't have a name so lets call it either "Player One" or "Default" for now

— rosssss (@TeenageSlacker) July 22, 2013
My votes on the Royal Baby name: William Severus Weasley I; Albus Henry Piccadilly II; Paddington Bear II

— Lauren T (@LaurenTreads) July 22, 2013
"@HayekandHockey: I hope the new royal baby's name is Ralph. The movie needs a sequel pic.twitter.com/oyg11vD3GW" @emptynetters

— Susie (@suz_b31) July 22, 2013
Not remotely interested unless they name it something like Zeus. Zeus Mountbatten-Windsor. #royalbaby #justababy

— Tom Bracegirdle (@Bracey94) July 22, 2013
My vote is for Spike MT @RussellGrayKCBJ: Leading contenders in the office pool for new name of royal baby: Dakota, J'Marcus, Tyler, Jackson

— Alyson Raletz (@araletzKCBJ) July 22, 2013
They'll name the #royalbaby 'South East', in 16 years he'll marry his American girlfriend. Compasses will stop working. The world will end.

— Daphne Schmaphne (@bythesheetstore) July 22, 2013
I really hope they name the #royalbaby Prince. Because, Prince Prince.

— Dr. Mireya Mayor (@mireyamayor) July 22, 2013
If the royal baby were a girl, then the only contender for a name would have been Princess Consuela Bananahammock

— Chris Martin (@chrismartin_94) July 22, 2013
#Beckham would be another great royal baby name! His Royal Highness Prince Beckham of Cambridge! LOVE!!!

— Perez Hilton (@PerezHilton) July 22, 2013
Fingers crossed they name the #RoyalBaby Kong so he will eventualy be king kong.

— JUDE (@Judeecho) July 22, 2013
Name the #RoyalBaby after a national treasure. I've narrowed it down to five: Cumberbatch. Ron Weasley. Wiggins. Sherlock. Sweeney

— Ben (@MinnesotaBen) July 22, 2013
Breaking: Kate is going to name the #RoyalBaby Drake because the birth murdered her vagina.

— Shane Reaction (@shaneREACTI0N) July 22, 2013
They should name the #RoyalBaby http://t.co/9OXHVfaTBe

— Todd Olmstead (@toddjolmstead) July 22, 2013
People want the #RoyalBaby to be named Joffrey, but MY vote is for Akeem. pic.twitter.com/ZnCsxv4xiX

— Andy Woodworth (@wawoodworth) July 22, 2013
Of course, if Will and Kate are still stuck they could always try the Washington Post's Royal Baby Name Generator. Or they could go with David Beckham's suggestion!
Photo courtesy Getty Images
Read more royal baby
Stars tweet their excitement ahead of royal baby birth
Will & Kate: Couple take "modern approach" to raising baby
Royal baby at risk: Real danger awaits Will & Kate