(page 2 of 2)
Where are they now?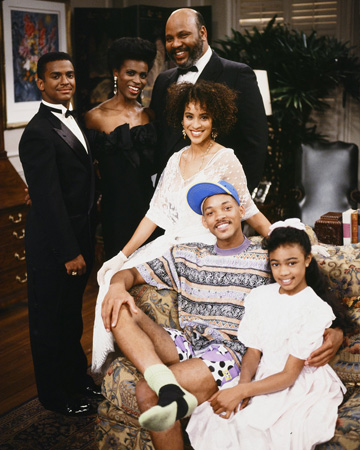 The guy who is way cooler than Carlton
Ever wonder what happened to Fresh Prince's Alfonso Ribeiro, the guy behind the goofy Carlton dance? The truth is, Ribeiro is way cooler than that one dance — and he's got a brand-new show on TV.
Fresh Prince may have launched Will Smith into stardom and helped Ribeiro make a steady career for himself, but what about the rest of the cast?
Tatyana Ali — Carlton's little sister saw the most success of all the Banks. She went on to star in movies like Kiss the Girls and Jawbreaker. Most recently, she had a recurring role on the daytime soap The Young and The Restless. Little Ashley Banks also put out an album that was certified gold in the late '90s. The 34-year-old isn't all beauty and talent, though — she has brains, too. Ali graduated from Harvard in 2002!
Karyn Parsons — The woman behind the rather vapid Hilary Banks quickly faded from the spotlight after her role on Fresh Prince, but she hasn't left Hollywood altogether. In 2008, she wrote and produced two movies from Sweet Blackberry Presents. The animated series worked to bring to life stories of unsung African-American heroes. We're sure Parsons would agree, though, that her most important "role" is that of mother to her two children.
Joseph Marcell — The Banks' butler, Geoffrey, has had his fair share of success, too. The Caribbean-born actor has 39 credits to his name, including a former recurring role on The Bold and the Beautiful and a stint of guest spots on the BBC's EastEnders. Most recently, he starred in the movie Fedz, set in London's not-so-distant future.
DJ Jazzy Jeff — Jazz never meant to be an actor, which is why his acting credits stop after Fresh Prince. He is, however, a legendary hip-hop DJ who remains in steady demand. His song "Parents Just Don't Understand," which he released with Will Smith, has been featured in tons of productions, including an episode of Parks and Recreation and the movies Jersey Girl and The Parent Trap.
Aren't you glad to know where all your favorite kids from Fresh Prince stand? We thought so! In case you're ready to spend a little time catching up with the Banks', Fresh Prince is now available on Netflix!
Photo credits: WENN.com and ABC Photo Archives