What to read
while you drink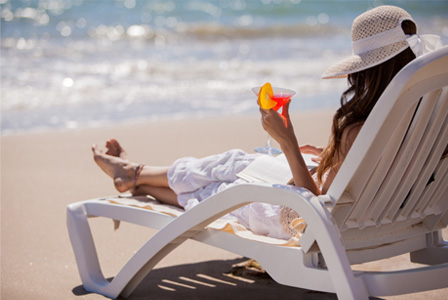 Looking for a great read and a stiff drink for the summer? We've taken some old bestselling novels and combined them with our favorite new releases, as well as some boozy cocktails to make the perfect summer afternoon.

For those who loves twisty psychological thrills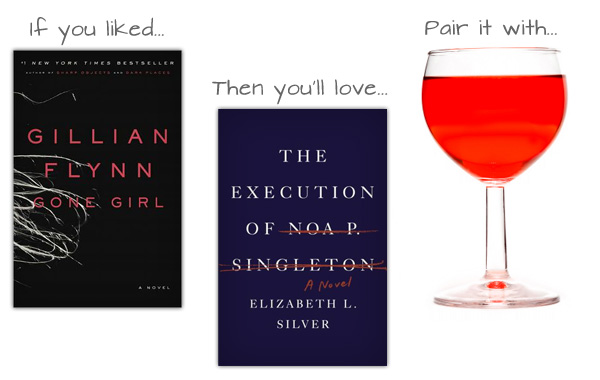 If you liked Gone Girl then you'll love The Execution of Noa P. Singleton and pair it with a Wild Hibiscus Champagne Jelly Cocktail
Readers who love twists and turns that mess with their minds will love The Execution of Noa P. Singleton by Elizabeth L. Silver, about a young woman on death row. Noa had so much promise, so much going on in her life, so why did she murder another young woman? The woman who pushed hardest for Noa to receive the death penalty, the victim's mother, comes to Noa offering a reprieve in exchange for the real reason behind her daughter's death.
Pair this twisty novel with a twisty, cross-genre cocktail. To make the Wild Hibiscus Champagne Jelly cocktail, combine champagne with hibiscus syrup and gelatin powder to make a solid cocktail you won't soon forget.

For those who love strong, sensational women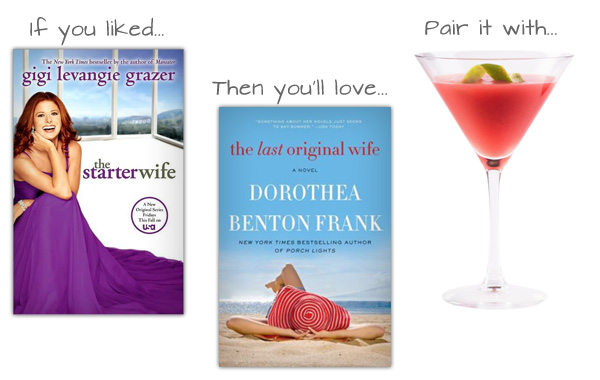 If you liked The Starter Wife then you'll love The Last Original Wife and pair it with a simple, original, straight-up Cosmo.
Readers who enjoy reading about strong women and the ins and outs of first and second marriages will love Dorothea Benton Frank's latest, The Last Original Wife. Leslie Anne Greene Carter is the last of the original wives in her social set in Atlanta, Georgia — but, as Leslie realizes after a series of mishaps and accidents, is being divorced really the worst thing that can happen?
Pair this beach read with the ultimate in cocktails. To make The Best Cosmo you've ever had, combine lemon vodka, Grand Marnier, fresh cherries and cranberry juice, because classics (whether wives or drinks) will never go out of style.

For those who dream of dark places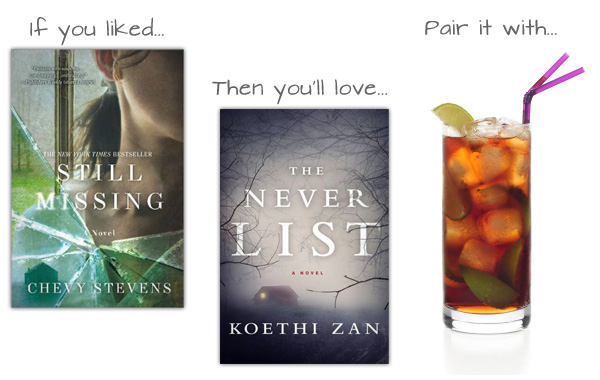 If you liked Still Missing then you'll love The Never List and pair it with a boozy Dark Rum and Citrus Sipper.
Kidnapping stories are the stuff of nightmares, and Koethi Zan excels at this dark storyline in her novel, The Never List. Best friends Sarah and Jennifer are obsessed with their own personal safety, so they create a Never List, a list of things they will never do to avoid putting themselves in precarious situations. But the list fails them just one time, and they are both kidnapped. Years later, Sarah must face the trauma of her experiences again when she is given the chance to find out what happened to Jennifer once and for all.
This engaging but heavy read deserves a boozy companion. To make the Dark Rum and Citrus Sipper, combine dark rum, simple syrup, lime juice and orange liqueur as a companion for this dark novel.

For those who want to rediscover themselves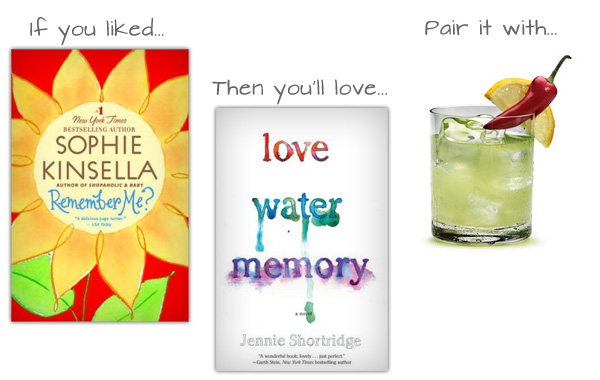 If you liked Remember Me? by Sophie Kinsella then you'll love Love Water Memory by Jennie Shortridge and pair it with a Jalapeno and Vanilla Margarita.
Love Water Memory by Jennie Shortridge features Lucie Walker, who wakes up in the hospital with no memory of who she is. But this Lucie is very different from her old self, as the fiance she doesn't even know tells her. As Lucie explores her old life and tries to understand the psychological traumas that caused her to lose her memory in the first place, she must figure out who she is and what she really wants out of life.
This easy read needs a tasty drink that has enough of a kick to make you remember all those important things you've forgotten. To make a Jalapeno and Vanilla Margarita, combine a jalapeno pepper with vanilla liqueur, agave nectar and light tequila to make a drink worth remembering.
More summer reads
Hot summer books for kids
Divalysscious Moms' Lyss Stern shares her summer reading list
5 Steamy beach reads