1
His family is kind of a big deal
Armie Hammer's impressive lineage dates way back to his paternal great-great-grandfather, Julius Hammer, a Russian immigrant who reportedly founded the Communist Party in New York. Armand Hammer, Armie's great-grandfather and namesake, was a famous industrialist, art collector and philanthropist — his wife, Olga Vadina, was a Russian actress and singer. His dad, Michael Armand Hammer, is chairman and CEO of Armand Hammer Foundation, of which his mother, Dru, is a board member. Furthermore, his philanthropic parents serve on the board of the Los Angeles Dream Center and Knoedler & Hammer Galleries.
2
He almost got exiled for acting
After playing Rooster Hannigan in his sixth grade class' production of Annie, Armie couldn't get the acting bug out of his system. Ultimately, he opted to drop out of high school his junior year to pursue acting. However, his parents didn't take the news lying down — he has said that "for all intents and purposes," they disowned him when he dropped out. To reach a compromise, the budding actor enrolled in courses at Pasadena City College and UCLA. Fortunately, his parents lightened up a bit when he got his breakthrough role as the Winklevoss twins in The Social Network.
3
He believes in soul mates
All right, ladies… be prepared to swoon. Armie, who got hitched to actress Elizabeth Chambers in 2010, could be called a hopeless romantic. "I do believe in love at first sight, but I wouldn't if I didn't experience it," he said. "When I first met my wife, I remember everything she was wearing the first time I saw her." The smitten pair ventured into business together last year with the opening of Bird Bakery in Elizabeth's hometown of San Antonio, Texas.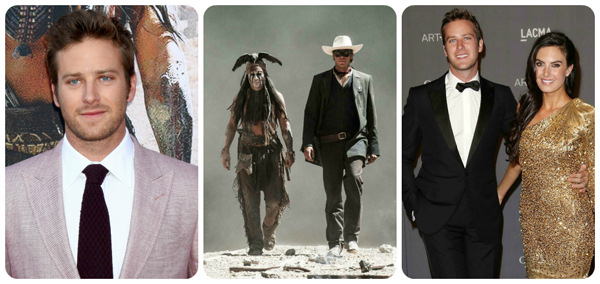 4
He's not interested in Fifty Shades of Grey
One of the most talked about castings, like, ev-er, the film version of Fifty Shades of Grey certainly needs a stud at the helm. But don't go knockin' on Armie's door. "No one actually offered me the movie, but while I was working on Lone Ranger my agent brought it up and I said, 'Nope,'" the actor revealed in an interview. "I mean c'mon — it's just mommy porn. I'm not going to sit on top of the laundry machine in spin cycle, reading about putting a ball gag in someone's mouth. That doesn't do it for me." Sheesh, a simple "no" would have sufficed!
5
… But he kind of likes to talk about sex
For someone who supposedly doesn't get his kicks from S&M, he sure has some colorful things to say on the subject of sex. In an interview with Elle, he divulged, "One chick tried to stab me when we were having sex." Then, in a much talked about interview with Playboy, Armie overshared again. "I don't know how much we can put here without my parents being embarrassed, but I used to like to be a dominant lover," he spilled. "I liked the grabbing of the neck and the hair and all that. But then you get married and your sexual appetites change. And I mean that for the better — it's not like I'm suffering in any way. But you can't really pull your wife's hair. It gets to a point where you say, 'I respect you too much to do these things that I kind of want to do.'"
6
He's got some serious equestrian skills
As part of their training for film, the actors cast for The Lone Ranger were required to attend "cowboy camp," a task that likely was daunting for most. But Texas native Armie wasn't sweating it, confidently calling himself "a pro." Apparently, he's got the goods to back up that swagger. "I had to work really hard because Armie is very good," said actor James Badge Dale, "and so we had a competitive brother thing going on, and I'm turning to him like, 'You don't make me look bad, man.'" Well, "Hi-Ho, Silver," indeed!

Photo credits: Disney, Nikki Nelson/WENN.com, WENN.com, WENN.com