SheKnows: If you were to put together a summer-friendly work outfit, what would it look like/consist of?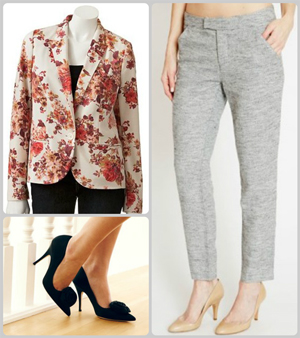 Lauren Conrad: There are a few key pieces I'd recommend to give your work wardrobe an updated, summery feel. For a chic, office-appropriate outfit, opt for a swingy skirt or cropped trousers, paired with a peplum top and pointed pumps. And since layering is key when it comes to summer work attire, polish off your office look with a pretty cardigan or floral printed blazer, like this one from my LC Lauren Conrad collection.
SK: What's your go-to brain food to beat the heat?
LC: Fruit. It's refreshing, healthy and tastes amazing during the summer months.
SK: Do you feng shui your office?
LC: I don't, but I like to think it has a nice flow.
SK: What was your best subject in school?
LC: I always loved English, and I think that was one of the reasons I was so excited to become an author myself. I also loved my ASB classes. I was always a part of the student body and loved planning our schools events.
SK: If you had to pick a category, which group were you in high school: the popular group, the academic group, the athletic group, other?
LC: All of the above. My school was smaller and not as cliquey. I was very involved in school activities and sports. I played soccer, tennis and softball.
SK: What's been the most difficult part about starting your own business?
LC: Deadlines, schedules and careful planning. When it's your business, it's all on your shoulders, but I am just so grateful to be able to do what I love and work on such an amazing line like Paper Crown.
SK: What advice do you have for other entrepreneurial women?
LC: Know what you goals are ahead of time, make sure you're following your passion and don't start unless you can give it 110 percent. It's hard work, but it's worth it in the end.
SK: What kind of boss are you?
LC: I like to think I'm a pretty fun boss. I'm in a creative industry, so we like to have fun.
SK: How did you decorate your office?
LC: Our offices are very girly — lots of candles, and lace and tufted furniture. Modern with a vintage feel.
SK: Any new ventures this year to share?
LC: I continue to work on my line LC Lauren Conrad for Kohl's, designing for my own line Paper Crown, I just released my eighth book, Infamous, and I'm designing my line of sustainable bags called XO(eco) for Blue Avocado. I try to keep busy.
SK: What books are you reading now?
LC: When I'm in writing mode, sadly I don't read as much as I would like. When you see words on a page all day while writing you tend to not want to see them during your free time.
I did just start an amazing novel that I can't put down. It's called The Never List.
SK: Even the busiest businesswomen need to have a little fun. What do you do to relax after a busy work week?
LC: I believe in a work-life balance and especially like having fun with my friends after a busy work week.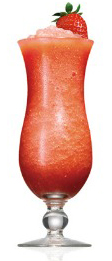 Entertaining is also such a big part of my life. I try to host a dinner party or two each month to catch up with family and friends. We try all different types of cuisines and cocktails.
Lately, I've been mixing up some Malibu Island Spiced cocktails to add to the menu. My all-time favorite is definitely Malibu Spiced Lanai Bound. It makes me feel like I'm on a tropical island!
Get the recipe
Malibu Spiced Lanai Bound
Ingredients:
1.5 parts Malibu Island Spiced
4 strawberries
6 parts coconut water
Strawberry garnish
Directions:
Add all ingredients to the blender
Add 1 cup of ice
Blend until smooth
SK: What other smart-celeb would you love to spend a day with?
LC: I need to think about that one...
Photo credits: Ivan Nikolov/WENN.com, Lauren Conrad