Man Of Mystery, Revealed
Drake shot to fame as quickly in the music world as he did in the world of TV. But besides a fight with Chris Brown, and as the object of Amanda Bynes' affection, who is Drake?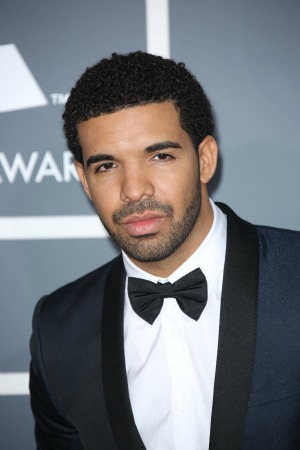 We have all heard Drake's music (whether we know it or not), and of course that Amanda Bynes thinks he is hot. But who is Drake, really?
1. Drake rose to fame as a Canadian TV star.
Drake joined the cast of Degrassi: The Next Generation in 2001, when he was only 15 years old. He played Jimmy Brooks, a basketball star who had to use a wheelchair after being shot.
2. His real name is Aubrey Graham.
Believe it or not, but Drake is only his middle name. Aubrey Graham is the given name of Drake, something we think may not have made him the sexy, mysterious celebrity he is today.
3. He has appeared in children's programs, including Ice Age: Continental Drift.
Drake is not only still acting, he is doing some voice acting as well. He appeared in Ice Age: Continental Drift in 2012, as Ethan, the young mammoth.
4. He is Canadian.
Drake was born in Toronto, Ontario, Canada in 1986 (and even played hockey as a child).
5. He was raised Jewish.
Drake's mother is a Jewish Canadian, and he attended a Jewish Day School and even had a bar mitzvah.
6. He started his rap career through a series of mixtapes.
Drake began making mixtapes in 2006, and started gaining national attention. He was featured on BET and was supported by rappers Kanye West, Jay-Z and Lil Wayne. He was finally signed to Universal Motown in 2009.
7. He has written songs for artists such as Alicia Keys and Jamie Foxx.
Drake has won numerous awards for his songwriting abilities. He wrote "Un-Thinkable" for Alicia Keys and co-wrote "Fall For Your Type" for Jamie Foxx.
Drake admitted back in 2010 that Minaj was his inspiration for "Un-Thinkable." He told MTV in 2010 about his crush.
"I've always really, actually, really had a crush on her, always really loved her, and she's always just looked at me as, like, her little brother," he said.
9. He is a fan of the Miami Heat.
Drake was videotaped outside the Heat's locker room after their victory in Game 7 of the NBA finals on June 20. The video shows Drake being denied access because he didn't have a media pass.
10. He dated Rihanna (probably).
While many people remember the infamous fight between Chris Brown and Drake at a nightclub, not as many people remember the reason for the fight.
"It's embarrassing, the amount of media coverage," he said, according to the New York Daily News. "Two rappers fighting over the woman. He's not even a rapper, but still, it's the last way you want your name out there. It distracts from the music. But he's made me the enemy, and that's the way it's gonna stay, I guess."
The relationship was rumored, but the fight and the aftermath made it seem like he was protecting his girlfriend. There have since been rumors the two have been considering rekindling their relationship.
11. He's never been in love.
The rapper recently spoke with GQ magazine about the Rihanna relationship, and how he realized he never felt that he loved her.
"I had lunch the other day with someone I extremely look up to. I had lunch with Will Smith, and listening to him talk, it made me think I don't know what love is," he told GQ. "He said something profound. He said love is when you become one and you need that person. It's not about wanting anymore, you need that person. Hearing that, I don't know if I've ever felt that way."
The singer-rapper announced on June 24 that his new album Nothing Was the Same will be released on Sept. 17.
Photo courtesy FayesVision/WENN.com