Supposedly, Selena, 20, is getting cozy with "Lego House" singer Ed Sheeran, who's currently touring with Sel's good pal Taylor Swift. Oh, and this guy's British. Bonus points for upgrading to a man with an accent!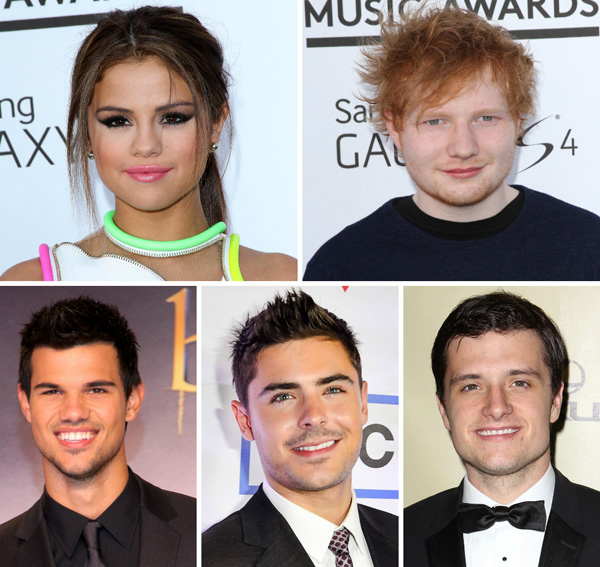 More juicy articles on YourTango
Full disclosure: I'm pulling for this spin of the rumor mill to prove true. I've interviewed Selena a few times since her Wizards of Waverly Place days, and even back then, it struck me how mature and articulate the starlet came across. Mature and articulate? Not exactly the stuff Justin Bieber's inhaling these days (pot busts, paparazzi drama, recklessly whipping around Calabasas in his Ferrari, former NFL star Keyshawn Johnson using his Prius to chase down a speeding Biebs… you get the picture).
Now, Ed Sheeran, on the other hand, is on his second serving of humble pie. "I'm chubby, ginger with blue eyes," the 22-year-old songwriter once described himself. Dating an older guy without an ego? There's a thought.
In case, Seled (Sheerlena?) fizzles before any real flames ignite, here are a few other options to help Ms. Gomez forget… what's his name?
Tell us
Who do you think Selena should date next? Let us know in the comments!
About Lauren Metz
Lauren Metz is the celebrity editor at YourTango.com — a site dedicated to publishing engaging, informational and entertaining content about relationships for professional women in all stages of love. By night, she's a part-time wedding planner as she prepares for her 2014 nuptials.
Lauren launched her career in entertainment while on staff at Seventeen Magazine, and has since worked with numerous national media outlets, including E!, Bravo, OK! Magazine, AOL, Alloy Entertainment and Warner Brothers, and interviewed everyone from Taylor Swift to Giuliana Rancic to Justin Timberlake.
When Lauren's not keeping up with the latest Channing Tatum news or finalizing menus, she dabbles in writing books. Lauren provided fashion tips for Seventeen Ultimate Guide to Style: How to Find Your Perfect Look and authored The Prom Book: The Only Guide You'll Ever Need — which includes advice you can use 365 days a year, such as exclusive beauty tips from celebrity dermatologist Dr. Murad, fitness routines provided by Jessica Alba's longtime personal trainer, party planning ideas from Oprah's event planner and much more.
Lauren's third book, Lights Camera Booze: Drinking Games for Your Favorite Movies, releases November 2013. You can follow her @itslaurlaur.
More on dating
Are you dating a Don Draper?
I just want to be friends — I think
Body language that signals "I want this date to last longer"
Photo credits: FayesVision/WENN.com, FayesVision/WENN.com, WENN.com, WENN.com, FayesVision/WENN.com