Hammer's Hilarious Heights
The Lone Ranger rides into theaters next month. But before then, feast your eyes on this new featurette that takes you to great heights.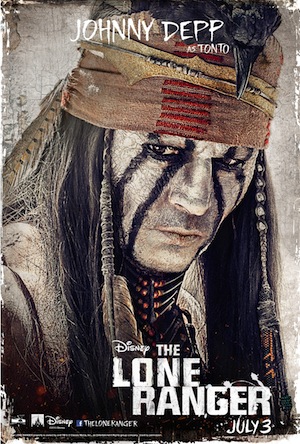 Disney's released a new behind-the-scenes featurette for The Lone Ranger. It's called Spirit Platform and it puts star Armie Hammer in a compromising position. The video gives us an inside look at one of the most intense scenes in the movie.
We watch as director Gore Verbinski and producer Jerry Bruckheimer prepare a scene in the canyons of Utah. Hammer must stand atop a peak as a helicopter (rigged with a camera) flies around him. The height and pressure alone would have us shaking in our boots, but Hammer's a trooper.
"I was looking up there going, 'I don't know. It's got all these cables coming off it,'" he said. "It must be pretty secure." You might be wondering why Verbinski doesn't use CGI for the shot. When asked about it, the director said, "I don't know how to do that."
But of course he does. He previously directed the Pirates of the Caribbean films and Rango. Those movies had CGI written all over them. Yet, we respect Verbinski's dedication to real location shoots. They're a rarity these days.
Check out the behind-the-scenes featurette below:
The Lone Ranger costars Johnny Depp, Tom Wilkinson, William Fichtner, Barry Pepper, James Badge Dale, Ruth Wilson and Helena Bonham Carter. The film opens in theaters everywhere July 3.
What do you think of The Lone Ranger's behind-the-scenes action?
Photo credit: Disney Pictures