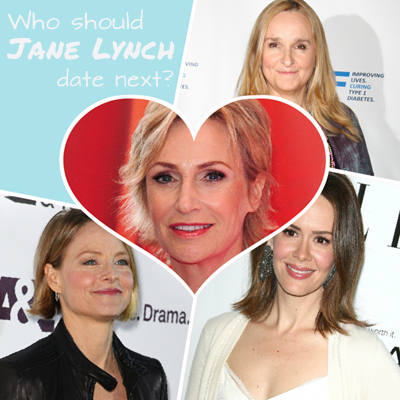 "Lara and I have decided to end our marriage," Lynch, who stars as Coach Sue Sylvester on Glee, told People in a statement. "This has been a difficult decision for us as we care very deeply about one another. We ask for privacy as we deal with this family matter."
Odd as this sounds, Jane could take a page out of Sue's cheerleading playbook. As the leader of the Cheerios once said, "I resent being told to hold on to anything."
So don't! Let go of the heartache, Jane, and when the time is right, give love another go. Hey, Match.com is working out pretty well for Martha Stewart. But if you want to give dating in Hollywood a whirl, I suggest having your people call these three people:
More juicy articles on YourTango
After marrying Dr. Lara Embry, a clinical psychologist, on Memorial Day in 2010, Jane was cast in a new role: doting stepmother. "My greatest pleasure is Haden, my stepdaughter," the gushing parent told People. "I am surprised how much love you feel and how you would do anything for your children."
Sounds like Jane wouldn't mind expanding her brood. Insert Melissa Etheridge, a similarly family-focused mama, who shares two children with ex Julie Cypher — with whom she split in 2000 — and twins Johnnie Rose and Miller Steven with ex-wife Tammy Lynn Michaels.
Imagine those playdates! Both 52, these women would own any red carpet they graced with their coupledom. Brangelina, who?
Also a mother, Foster is two years Lynch's junior. And, well, since Jane married a Ph.D., it's clear she's into the accomplished type. I could ramble on and on about Jodi's stellar resume. But I won't. Unless you really want me to.
Admittedly, dating either Etheridge or Foster comes with a megawatt spotlight. Don't want that much shine on your next fling, Jane? Then give Sarah Paulson a call. The 38-year-old stunner brings more than good looks and acting creds to the table. Like Jane — who currently plays Miss Hannigan in Annie: The Musical — this American Horror Story star also has Broadway experience to her name; and really, there's no better city than New York to fall in love.
Tell us
Who's your dream rebound for Jane?
Tell us in the comments!
About Lauren Metz
Lauren Metz is the celebrity editor at YourTango.com — a site dedicated to publishing engaging, informational and entertaining content about relationships for professional women in all stages of love. By night, she's a part-time wedding planner as she prepares for her 2014 nuptials.
Lauren launched her career in entertainment while on staff at Seventeen Magazine, and has since worked with numerous national media outlets, including E!, Bravo, OK! Magazine, AOL, Alloy Entertainment and Warner Brothers, and interviewed everyone from Taylor Swift to Giuliana Rancic to Justin Timberlake.
When Lauren's not keeping up with the latest Channing Tatum news or finalizing menus, she dabbles with writing books. Lauren provided fashion tips for Seventeen Ultimate Guide to Style: How to Find Your Perfect Look and authored The Prom Book: The Only Guide You'll Ever Need — which includes advice you can use 365 days a year, such as exclusive beauty tips from celebrity dermatologist Dr. Murad, fitness routines provided by Jessica Alba's longtime personal trainer, party planning ideas from Oprah's event planner and much more.
Lauren's third book, Lights Camera Booze: Drinking Games for Your Favorite Movies, releases November 2013. You can follow her @itslaurlaur.
More on dating after a breakup
Dating again after a long-term relationship
4 Post-breakup rules for re-entering the dating pool
5 Ways to get over a breakup
Photo: Dan Jackman/WENN.com, Dan Jackman/WENN.com, WENN.com, WENN.com, WENN.com