This article was written by a member of the SheKnows Community. It has not been edited, vetted or reviewed by our editorial staff, and any opinions expressed herein are the writer's own.
Have you ever seen a ASPCA commercial?
Of course you have!!
Did you cry when you saw it?
I have a pretty good idea that you did!!!
And how can I know you did, because here's a little secret...
I cry every time they come on and so do our children. We even change the channel because we can't control the emotions that come with seeing those poor animals. These commercials have one purpose and that is to make your heart want to give. To give your time, money and even your home to these animals that have no voice!!!
How many of us actually help?!
How many of us buy a pet instead of adopting one?
How many of us just don't care?
Well I don't understand why people would buy instead of adopted. I don't understand why people abuse and use animals like they do. I have always been the type of person that left food out for the neighborhood strays. Which I am so happy my mom and dad allowed me to do it. I am a firm believer in never paying for a dog or cat. I don't need some designer dog or cat that cost more than I pay for rent.  Why would I do that when I could drive to my local Humane Society and adopted one who deserves a good home.
Our first dog came to us almost 3 yrs ago this Christmas. Her name is Shera. And yes she is named after Heman's sister!!! I had to represent my favorite cartoon!! She is a pit/lab mix and we got her for free. She has been such a joy to have. Because of her and our friend's pit bull Shyla, I have become a  firm believer in that pit bulls are a product of their upbringing. Just like kids!! There is a misconception that ALL pits are dangerous and should be put down. But that's not the case if they belong to the right family.
How many of you would take in a stray that you found?
Would you open your heart to an animal you and nobody else knows?
Could you take a chance to save a life if you could?
Well My family was faced with these questions this week. And I can tell you we answered yes to these questions.
On Monday Shera was in her usual spot on the back porch, when I noticed she was looking at something. So I went out to see what she saw. And got the shock of my life. There sat a malnourished female pit bull. She had the saddest eyes I've ever seen. I went out front to the side of our house where she was. I stayed a safe distance from her, knowing I didn't know how she was. I noticed she that she had a collar on but there was no tag. Which is a sure fire sign that she was dumped in our neighborhood.
I went inside right away and got her some food and water. But when I went outside she was walking away. So I set the food and water down and whistled for her to come back. She turned around and came back. When she got closer, I went back inside. I was only going to feed her this one time. But when I left to get our daughter from school, she was still laying on the side of our house. I though maybe she'd follow me but she stayed where she was.
So when we got home and she was still there, I called a friend who is amazing with animals, especially strays. She came over and called the dog over. And to our surprise this poor baby was the sweetest thing. But you could see how bad they used and abused her. You could tell she was used for breeding only. They had weaned her puppies and starved her, then dumped like she was nothing. While we were outside looking her over, my fiancee came home. He took one look at her and asked if she was sick. Our friend said she looked fine except for the fact she'd been starved.
We brought our dog out so they could get to know each other before we brought her in for the night. Now our dog is a wimp and hates big dogs. She loves ankle bitters. But I think she could since that this dog wasn't feeling good. And allowed us to bring her in. She even gave up her bed. We decided that night to give it a couple days before we made any decisions on what we wanted to do. But we knew we couldn't let her stay outside. The decision to keep her was left up to daddy because the rest of us wanted her.
Its Thursday now, and I am happy to say she is doing great and is getting her spirit back. You can already see a change in her body. We started calling her Buttercup because she looks like one but daddy hated the name. She is now Athena!!! We wanted her to have a name that showed her strength and spirit. I mean what sounds stronger than the Greek goddess of war. She also has a great home. With people who will love and treat her right. They have a dog that needed a friend and now she has one.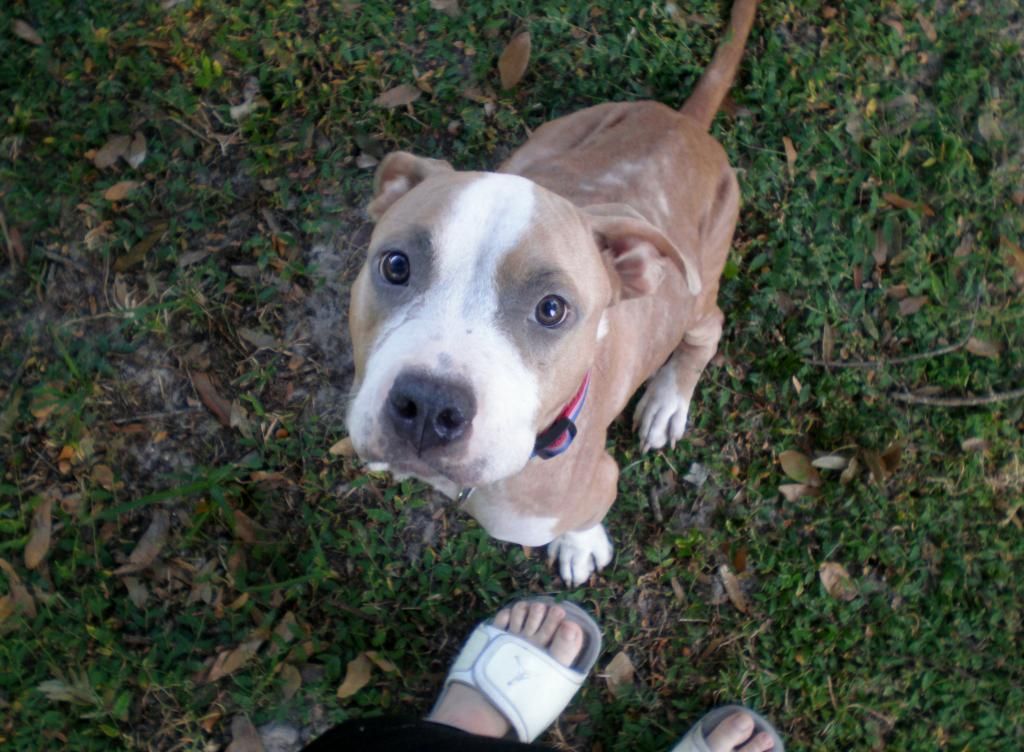 If you haven't guessed yet that family is mine!!! I truly believe she was sent to us for a reason. And that reason is because we can give her the life and love she so desperately deserves.
So if you are thinking about buying a dog or cat, please rethink it. There is a dog or cat out there that needs a home and will be grateful to have you. Adopt or rescue don't buy!!