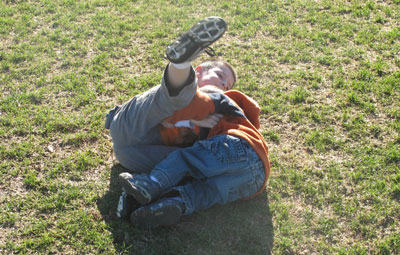 When I was pregnant, I never found out if I was having a boy or a girl. My husband and I didn't see the point. It's a child. Why would we do anything different to prepare for a boy or a girl? Plus, I really didn't want a bunch of pink cutesy gifts if I knew I was having a girl. Luckily, I ended up with two boys, so I avoided the pink thing.
While the preparation for a baby is pretty much the same for boys and girls, things change as they grow into real, interactive human beings.
Boys have a ridiculous amount of energy,  a seemingly innate need to wrestle all the time and consume endless amounts of food. At least in my experience. They also seem to understand how to actually transform a Transformer, something I cannot nor have the desire to do.
I'm guessing moms of boys utter the same type of words and phrases I do on a regular basis. Read 15 words and phrases that are fairly typical in my household.
What would you add?

This is an article written by a member of the SheKnows Community. The SheKnows editorial team has not edited, vetted or endorsed the content of this post.
Want to join our amazing community and share your own story? Sign up here.