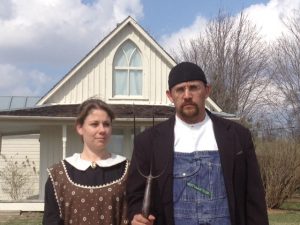 The classic American Gothic portrait by Grant Wood was painted in the 1930′s. We had the opportunity today to visit the little farmhouse in Eldon, Iowa that was the inspiration for the iconic painting. It was actually quite fun, Paul and I were able to dress up and take our picture in front of it. We look good pretty stoic, don't you think? No, the picture isn't photoshopped -- we were really there!
Let me take you back about 6 hours.
I drop Paul off to play golf with his best friend from college for his birthday. As I pull away and decide which way to go, I realize that I have really nowhere TO go. I am in the middle of Iowa, no joke, like smack in the middle of the state. For them to play a round will take about 4 hours, so I need to entertain 7 kids in a packed vehicle, in a strange city. I also need to find a decent internet connection so I can blog.
Solution: McDonald's. Every town has one, right?
We entertain ourselves for a few hours, I blog, the kids eat fries and ketchup. Rather, the baby bathes herself in it, but what do I care, she is happy.
My sweet husband calls and asks me if I can come and get him. I toss the kids in the car and take off. Now, we have a 9-passenger Suburban, fully loaded for a 10-day road trip. There is not much extra space. The least lucky child is the one who has to sit in the third row, directly behind the driver. It is like an obstacle course to get in that spot. It is cramped and never the right temp, and there's usually tears and a fist fight over who has to sit there.
Today the 6-year-old sat there. She had the most coveted spot the day before between the driver and front seat passenger, so today is her day in the back.
I am happily barreling down the highway, while the kids play with their electronic devices, read and listen to music, all completely happy. Then I hear the WORST possible sentence scream from the middle row.
"MOM!!!!!!!!!!!!!! Storie (the cramped 6-year-old) is throwing up!!!!!!!!," my 10-year-old yells at the top of her lungs. I don't blame her.
I look in the rear view mirror to see the 8-year-old, who had been sitting next to the puker, jumping over the back bench and into the middle seat. The 4-year-old, who was also in the very back, is trying frantically to go ANYWHERE else, but can't get out of the car seat.
"Someone HELP her!!!!" I am yelling at the middle bench, which is full of older children.
I'm on a two-lane highway with no shoulder, so I have no choice right at the moment but to keep driving.
"Oh My GOSH! I am seriously going to puke," the 14-year-old yells, as he rolls down the window, sucking our eardrums out with it. The other non-helpful older kids are all staring, wide-eyed and motionless, at the poor kid puking.
Like a scene from Stand By Me, my 6-year-old continues to vomit without stopping, everything she could have possibly eaten in the past 3 weeks.
"Get her SOMETHING to throw up into... NOW!!!!!" I scream at my kids. "What are you doing staring at HER? HELP HER!!!!"
No one moves. They are completely entranced. The baby, who is sitting directly in front of her, is twisting her body around trying to see what is going on. I am screaming instructions from the front seat at 70 miles an hour, as there are cars behind me and nowhere to turn off. Finally, after threatening lives, my bigger kids pull it together enough to hand her a baby sock.
A. BABY. SOCK.
Yes, they've pulled the sock off the baby and handed it to the 6-year-old as she's done vomiting a gallon of puke, so that she might wipe off her chin. I WAS GOING TO KILL SOMEONE. I pull off the road and into the parking lot of the golf course, where my husband was waiting with friends to introduce his family to them. I stop, jump out of the car, and start yanking kids out and into the parking lot, yelling at them for being useless. I grab the poor 6-year-old and whisk her to the bathroom.
The cleanup took almost an hour. Then we made the older kids draw sticks to see who sat there.
Back on the road, we saw the sign for the American Gothic historical site. We decided to stop so that we could air out the car for a minute. They had clothes you could dress up in, and I needed a break, so my husband played along. Still stressed from the episode, I avoided all my kids on purpose and read every little sign in the mini museum. The nice lady who ran it volunteered to take our picture for us.
"Now remember, don't smile," she said.
"Yeah, not a problem," I thought.
"Wow, you guys were really good at that!" she joked. "I don't have kids yet, but when I do, I am going to take them on road trips, just like this!" she happily told us.
I am framing that picture. Someday, my grandkids are going to ask, "Why are you and Grandpa so unhappy?" I can tell them, "It is because I was traveling with your parent!"
Tiffany Ivanovsky
Owner: MyLitter / One Deal At A Time 
This is an article written by a member of the SheKnows Community. The SheKnows editorial team has not edited, vetted or endorsed the content of this post.
Want to join our amazing community and share your own story? Sign up here.