I learned something really important this week about blogging and I'm going to share this knowledge with you. Ready... Just because you have a lot to say about something doesn't mean the blog post will be easy to write. Having a lot to say about something can make it pretty darn difficult to blog. My difficult topic of the day: Christmas stockings.
That's right. I'm having one heck of a time writing a post about the Christmas stockings I've known and loved. I have too much to say and not enough time or space. Forgive me if I muddle it all up and let me just start at the beginning.
The first stocking I ever loved was the "Artex" Christmas stocking of my childhood. But really, how much could I have loved it if I haven't thought about it in 20 years? Now that I've talked to my mom about it, and surfed around looking at Artex and Tri-Chem sites, quite a bit. I wish I had a photo to show you but my sister absconded with the family photo albums during the planning of my mom's 65th birthday and who knows if we'll ever see those again. Those of you who remember Artex and Tri-chem can probably get a pretty good picture of it in your head, those of you who don't... sorry, you're missing out on some awesome retro coolness.
I don't remember expecting anything in particular in my Christmas stocking when I was a kid. I don't have any solid memories of getting anything really cool in a stocking. What I do remember is that I loved my stocking because when I got up on Christmas morning, I didn't have to wait to open it. My brother (and much later, my sister) and I could just dig into them while our parents were getting out of bed, setting up video cameras, looking for the Polaroid film, making instant coffee, etc... I liked that. I did NOT like having to wait.
As a grown up with children of my own, I did not carry on that tradition. I forced my poor innocent excited children to WAIT until I was up, had my coffee at least in the microwave, and had my camera ready to go. I have no idea why I didn't carry on the stocking tradition of my childhood... oh wait, I remember now... I'm a control freak. Almost forgot. Hah.
Jenn was born in August of 1983 and at 3 months old, she did not really NEED a stocking, but my mother bought a reindeer stocking from Hallmark and we all put little baby toys and socks in it that first Christmas. (That reindeer stocking was used by all three of the big kids, on their first Christmas, and they all have a fondness for it.)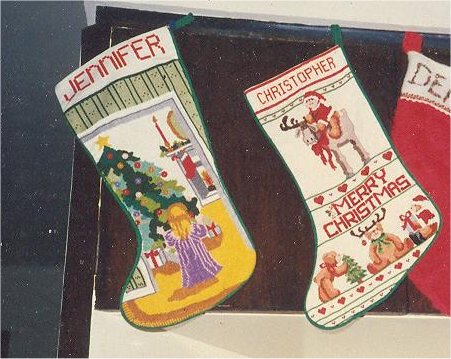 Shortly after Jenn's first Christmas, I got the brilliant idea to make her a stocking... hahaha, I was young and foolish. I decided to find a counted cross stitch pattern that I liked and I was sure I could get it done in plenty of time for her second Christmas. Hahahah, did I mention I was young and foolish? I got it done... but that set the stage for me to have to make a stocking for any children that came later. Aye yi yi. Yes, I made all three of them a stocking. Yes, I got them all done in time for each child's second Christmas. Yes, 25 years later I'm glad I did it. But while I was making all three of those things, I suffered and suffered a lot.
Nothing specific ever had to be in my children's stockings. Some candy, usually socks, often some sort of jewelry or something crafty. Every now and then Santa is tricky and puts something in a stocking that doesn't make sense. For example, one year Santa put a Sega game in one kid's stocking but the kids didn't have a Sega. They also did not think Santa had brought a Sega because Santa always leaves the "big gift" unwrapped - the "big gift" that was unwrapped was not a Sega. They were mighty confused by that Sega game... until well into the unwrapping, Christopher stumbled across a wrapped Sega game. Hah. Santa can be a tricky guy.
Thank goodness TW and the three small children came to me with their own Christmas stockings. TW still has her knitted sock stocking from her childhood and the little kids have matching "Dove" stockings with their names on them.
Besides coming with their own stockings, they came with their own stocking traditions. Odd how Santa does different things for different families, isn't it? In TW's family some very specific things go in a stocking:
1) candy cane sticking out of the top.
2) An orange
3) socks
4) batteries
5) something special in the toe
6) marshmallow Santa
Santa still follows some of those rules now that he visits TW and the little kids along with me and my big kids. Socks and candy cane are always there, marshmallow santa too. Usually something interesting is in the toe. Now, a plastic holiday cup always appears and Nerds rope has been a stocking staple for several years now. Sharpie markers or gel pens are always included and all of the children (boys included) will almost always find bright colored nail polish.
I'm not sure I should let y'all see just how nutty we are but... what the heck, you probably already know how nutty we are. Christmas stocking fun from 2007. If you watch all the way through, you'll get a glimpse of the big kids' cross stitched stockings and a good bit of our traditional stocking stuffers.
Do you have photos or video of your family's stockings? Does Santa have really specific rules about what goes in your family's stocking?
~~Denise
Flamingo House Happenings