This article was written by a member of the SheKnows Community. It has not been edited, vetted or reviewed by our editorial staff, and any opinions expressed herein are the writer's own.
     Please excuse my slightly tardy review of of the program, first off.  Anyone else try to change up the school routine with a new program while you're potty training a two year old and nursing an infant?  Let's just say we are frantically trying to get through our school days at all right now.  It feels nearly impossible.  Sometimes home schooling is not much book study and it's more character development/hands on learning/taking educational opportunities where you can get them.  That's one of the reasons why we love it!  That, and my boy can sit like this at his desk if he wants to.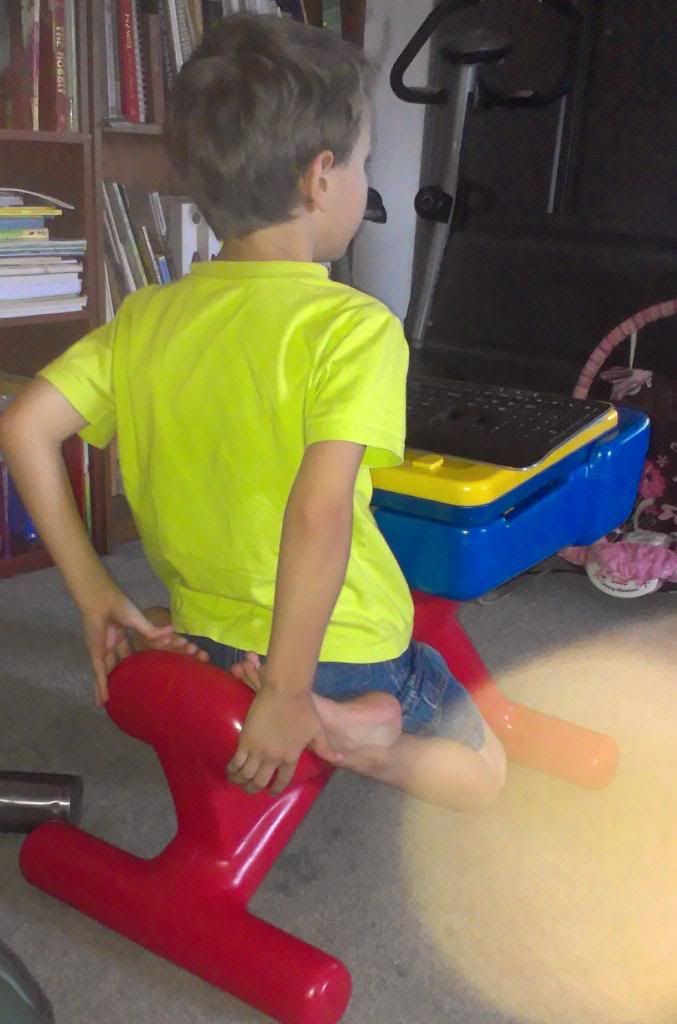 I wanted to start my almost 6 year old on spelling this year as he develops his reading and handwritting;  enter Vocabulary Spelling City.  The best part about this program is that it's $29.99 for a year and you can use it for up to five kids.  That's a steal for any program, in my opinion.  Especially when most programs will sell to homeschool families, but they charge you for each kid you're schooling.  It just makes sense to buy something that you get charged for once and you can use for everyone.   Unless you have more than five kids, of course. :)
     I enjoyed being able to either set my own spelling lists or use one of their many preset lists that already exist on the site.  You can set your child up to learn Dolche sight words for four weeks in a row, then give them a list of your own ocean themed words if you're doing a unit study that week.   That's versatility.  You can also sit down once every week or once a month and plan out lessons ahead for each child while you track their progress.  You can set due dates for assignments, have them take spelling tests, and print out spelling lists.   I was really excited to find out that you can print worksheets for any of the games, and the spelling lists can be printed in cursive, regular print, and even sign language!  Really cool since we are going to be doing a lot of signing this year.  
     On the flip side,  the games are just not as exciting as we are used to having access too through another program we have used for reading.  I feel like this makes the site feel more like work and less like fun.  You can preset which games you want your child to use to learn for the week though, and you could probably change it up often enough that maybe it wouldn't seem so boring.  Maybe spelling is just going to be boring, I don't know.  I feel like some of this would be much better for an older chlid who is used to more school work.  We have a tendancy to not do a ton of book work, so for us, with my k ids at the ages they are, it would be more beneficial for the games to be more engaging.  
     The one and only thing that really bothered me was a mistake in a game.  Don't get me wrong, this could be fixed and may be the only one of its kind, but I don't know for sure.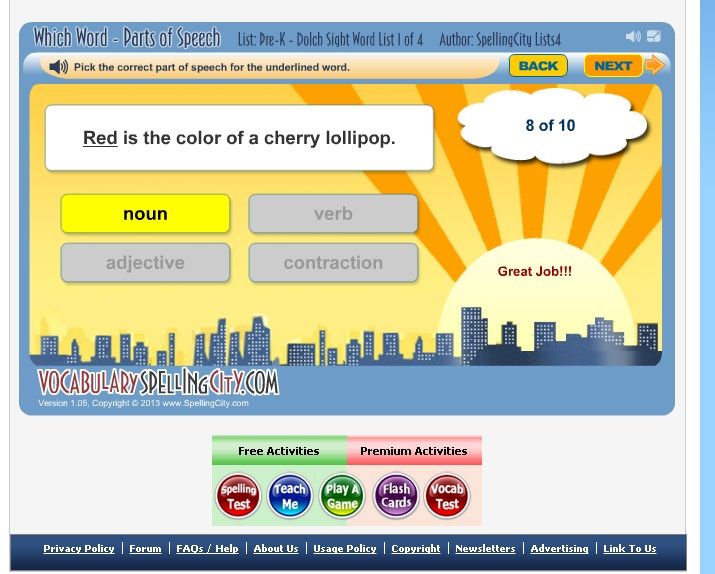 So, I kind of have a problem when I'm playing a game to teach me the parts of speech and the game is wrong.  This still isn't a deal breaker for me, I'm just hoping there aren't other issues we run into.  I'm pretty confident that red is not a noun.   Unless something has drastically changed since I was in school. :)
     All told, we have enjoyed test driving the program and I'm hoping to get some good use out of it this school year.  Now, I'm off to enjoy a cup of hot tea and a cookie while my kids rest peacefully.  Maybe, just maybe, I'll get a little sleep this evening too.  
Take Care and good night!