This article was written by a member of the SheKnows Community. It has not been edited, vetted or reviewed by our editorial staff, and any opinions expressed herein are the writer's own.
Harry, sit down.  We need to talk.  I know I pulled you away from that impressive thing you did on the chandelier, but I have something important to say.
This partnership isn't working as-is.  I need more.
It's not you it's me.  I mean, it's not me it's you.  Well actually, you're us.  Or, something like that.
Wow.  This is awkward.
We have ourselves a little Elf on the Shelf conundrum.  It's that moment in our time together when we decide what we mean to each other and how to move forward.  I'll be frank; sometimes, I'm just not that into you. Something about your role here in the house leaves me a little, well, unsatisfied. 
So, as of this morning when my kid woke me up at 5am to tell me you hadn't moved, I've come to a crossroads.  It's time for an elfolution in our house, an elf renaissance. Think of it as a re-org of sorts, a career transition.  
I'm all for your plotting and parading around the house creating havoc and unleashing a nocturnal world of wonder.  Your antics bring my kids pure unadulterated joy. I'll even admit that when you and your elfdom friends have over imbibed, the "Inappropriate Elf" pictures online are pretty entertaining for us adults.  It's just that I don't think you're living out your full elf potential here.
I know. I know. It's true I was the one who reluctantly pursued you in the first place. I was not an early elf adopter. I waxed and waned a few years knowing something about my family tradition coming in a little white box felt a bit contrived.  And then I caved, biting the proverbial marketing bullet and you were ours.  All ours.
It's understandable that you're content simply rocking a nighttime round of Jenga with our plastic dinosaurs, no strings attached. There's no judgment here.  Honest.  However, I think there's opportunity for you to have a different legacy in our lives since (thanks to me) you're now here year after year after year after year. 
Let me be straight with you.  With three young kids, there are many days I haven't showered and probably smell faintly of toddler poo.  Hence, conspiring with you to knock out a "Dance of the Sugar Plum Fairy" scene or some awesome snow angels on my kitchen counter isn't at the top of my Maslow's hierarchy. 
But, here's where our relationship gets really complex.
My kids all love you, even that littlest one.
And I mean L-O-V-E-all-capitals-shout-it-from-the-rooftops, love you.  They look forward to you coming each year and the stunts you've pulled off in our home are happily etched in their formative little brains.  And that's why I love you (super tiny lowercase "L" love you…ish…almost, sort of). These are fleeting moments and so I'll gladly scheme alongside you to create special family memories.  Okay, I'll admit it; sometimes, you're really fun.
But Harry, hear me out.  Every holiday feels as if it's taking performance-enhancing drugs so I'd like to dial it back a bit around here (by the way, do they have any extra leprechaun traps up at the North Pole?).  At the very least, we are (sometimes futilely) trying to make our holiday traditions not more plentiful, but more meaningful.  So if this relationship is going to be more than a fling, let's change it up a bit, shall we?
What if, just what if, in between your impressive acrobatic moves and impish tricks, your purpose in our family became something greater?  What if instead of just flying up to your direct report to pass along today's nose-pickings and misgivings you capitalized on your elf magic to impart lessons of gratitude and giving?  What if you helped us teach our children that "being good" is quite a bit different than "doing good"?   
You see, that Santa guy, he's got that naughty/nice list thing covered.  But you, you are relatively new on the scene with quite a dedicated crew in our house.  So you have some serious potential to help us instill valuable life-long lessons instead of just, well, hanging around with those beady little eyes of yours.
You must have sensed this conversation was coming.  When you arrived this year, you came with a letter asking the kids to donate some of their used toys.  Coming from you, Harry, learning to give instead of expecting to receive was really fun and memorable.  I mean, who doesn't love some of life's most important training coming in the form of a felt elf zip lining across our living room?  That was a great idea, really ingenious actually.  So, let's roll with that.  I think we're onto something here!
Hey, how about wrapping up that new unused puzzle in the hall closet and asking our kids to find a Toys for Tots drop-off site?  Or, what about leaving some coins for that school fundraiser?  Try leaving instructions to collect canned goods from our pantry to donate to a local food bank.  There's no pressure.  These bite-sized teachable moments don't have to happen daily.  Please, just sprinkle them throughout your stay.  I promise, your gift will be lasting.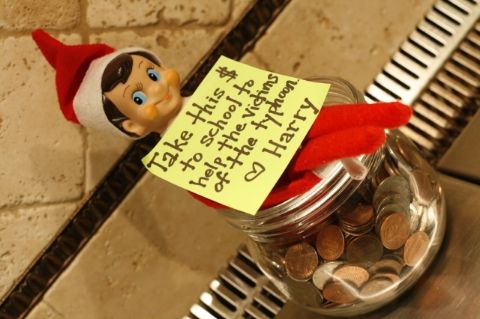 We're raising three malleable and impressionable kidlets in an avalanche of media pushing life's greatest new gadgets.  Keep us, their parents, on our toes. Inspire us to think about weaving the experience of helping others into our family's traditions, even the fun and silly ones.  Along with your monkey business, deliver a few digestible little lessons about looking outside ourselves and beyond the world of "stuff" in which we live.
I know this is a little deeper than our usual elf chat, Harry.  Your other elf friends might be rolling their eyes telling you I'm overanalyzing our relationship.  That's quite fine with me. It's not the first time I've heard that in my days. Anyway, what those elves do elsewhere is respectfully their prerogative.  And that's the beauty of traditions. They don't come in a box; traditions are deeply personal and different for everyone. They are molded to each unique family and carry different memories, meaning and in your case, magical wonder. And for our tradition, I want to harness that magical wonder for something more.
So Harry, exactly what color is your parachute? If you hang around this house, you've got to be willing to reengineer yourself a bit and take our relationship to the next level.  I do hope you'll stay.  The little ones really enjoy you.  And besides, you haven't done that trick with the toilet paper and the kid's' Lego castle yet.  After this elfolution, you'll be two parts less snooper and three parts more altruistic steward.  There's no doubt you'll still be full of trouble and mischief. The end result will just be even sweeter.
I'm feeling much better about "us" now.  You?
So what do you say, Harry?  Are you in?
I'll be watching you.