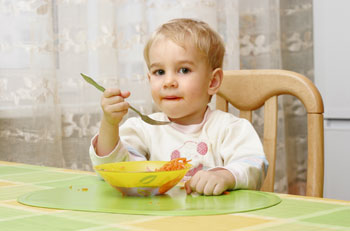 My 3 year old, Biz, takes forever to eat a meal. He's usually the first to start eating and the last to finish. No matter where we are.
Eating is like an event to him. It usually involves a lot of talking and several story lines.
We used to try to get him to do less talking and more eating, but it's painfully hard for him to do. I think he almost imploded once while trying to eat without talking.
He's quite the conversationalist and likes to entertain. Even if it is just himself. And sometimes it is because we end up leaving him at the table after a while. (Is that wrong?)
He will turn his pretzels into race cars that race around the "track" or fly his broccoli through the air. He has carefully positioned his carrot sticks upright in his sandwich to make trees and then "chopped" them down.
Biz has fun when he eats. I guess you could say he's a creative eater.
This is an article written by a member of the SheKnows Community. The SheKnows editorial team has not edited, vetted or endorsed the content of this post.
Want to join our amazing community and share your own story? Sign up here.