This article was written by a member of the SheKnows Community. It has not been edited, vetted or reviewed by our editorial staff, and any opinions expressed herein are the writer's own.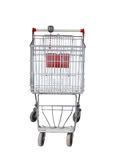 Seems like a pile of people are concerned about rising grocery prices and saving money on groceries. When I wrote How to Save Money on Groceries, I was unprepared for the rush of response. Let's keep at this, it's important. I've gathered more ideas from the blogging community.
Garlic Breath ~ This Is Nuts!, what it's like to do no grocery shopping for two months!
Cheap, Healthy, Good ~ Grocery Shopping: What Works For Me, a hard look at her 'before' and 'after' of shopping for groceries & Grocery Shopping for City Folk, especially for people living with space and transportation issues
Unclutterer ~ Tips for Quick Grocery Shopping, great tips for weekly grocery lists
Get Rich Slowly ~ Use a Grocery Book, details on how to really, really track food prices from week to week, store to store
All About Appearances ~ My New Grocery Shopping Strategy, the unexpected consequences (good ones) of taking control of grocery shopping habits
Gluten-Free Cooking School ~ 10 Strategies to Lower My Grocery Bill, Part I and Part II, I especially appreciate #6, set a maximum $ per pound
Who inspires your frugal grocery shopping habits? Leave a link for others to benefit.
BlogHer food editor Alanna Kellogg shops for groceries -- with lists! -- three or four times a week for her food column Kitchen Parade and food blog A Veggie Venture.