This article was written by a member of the SheKnows Community. It has not been edited, vetted or reviewed by our editorial staff, and any opinions expressed herein are the writer's own.
Traveling with young children is never an easy under taking.  Sometimes just the thought of planning the trip, packing and getting everyone and everything to your destination can be overwhelming. 
 When my husband got transferred to Ireland for 2 ½ years, we could have sat around, dreaming of all the things there were to see and do right outside our door or we could experience it ourselves, take in all that Europe had to offer.  We chose the latter.  We chose to bear the stress of the logistics and make our traveling dreams a reality. 
 Not only did my husband and I get to see so many of the things and places we'd only dreamed of, we got to share it with our daughters.  As a mommy who has been to 27 different countries with two children under the age of 4, I can confidently say it was all worth it!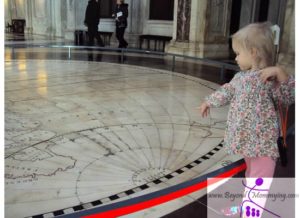 Our traveling days have slowed down since returning to live in the States, but we still fly a few times a year to visit family and take fairly frequent car trips around Florida and each Tuesday on Beyond Mommying, I share a different place we visited:  How we got there, where we stayed, what we saw, how we got around, what we enjoyed, how the kids acted and reacted and I also share information and tips for how to make traveling with young children easier.
 So pick a place you've always dreamed of visiting and see how it is possible to enjoy all the world has to offer and how you can share it with your own little ones and be sure to visit Beyond Mommying each week as I add information on all the places we've been.
The places we've been:
Spain: Malaga and Costa Del Sol, Madrid
Germany: Munich, Nuremberg, Leipzig and Wittenberg, Berlin, Hamburg
Italy: Pisa

Turkey: Istanbul